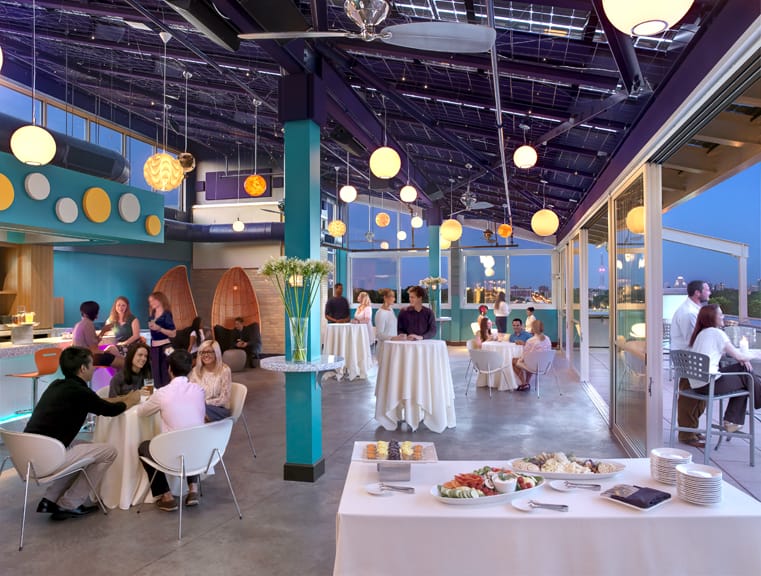 One of the newest event spaces in the St. Louis area is the Moonrise Hotel and they now offer a very unique space for small weddings called the Rooftop Moon Room.  The Moonrise Hotel is located in the Delmar Loop and is a 3 star rated hotel that is just five years old.  This Rooftop Moon Room has a beautiful outdoor terrace and this room and terrace offers dramatic skyline views.  It is an ideal site for either rehearsal dinners or modest size wedding parties of about 100 people.  For those of you who are eco-conscious, the moon (see photo below) and bar are powered by the solar panel canopy over the bar.  This venue is modern, sleek and just lots of fun.  I loved the moon and space theme décor throughout the hotel.
The main lobby staircase has colored lights that change and would be a wonderful location for photos, plus there are lots of other locations in the area for some great photography as well.
Another advantage of their facility is that when the party is over the Bride and Groom can retired to beautiful deluxe accommodations, plus you can reserve a block of rooms for out-of-town guests.  Being located in the Delmar Loop there is plenty of activities and shopping for your guests.  The Pageant Theater is right next door.
For additional information regarding the Moonrise Hotel's Rooftop Moon Room contact Amy Moser at 314.685.3419 or reach Amy at [email protected]  If you decide to book this venue for your wedding give us some feedback and let us know about your experience.