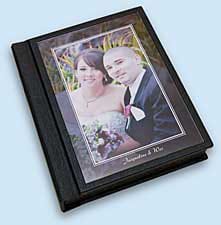 A lot of photographers have asked us questions regarding the preferences brides have concerning wedding albums, and we really felt that we did not have the answers to some of their questions, so we decided to go directly to you – our brides and readers – for some specific answers about wedding albums and photos.
I guess the first most basic question that we have is "Is a Wedding Album important to you? " Many photographers offer only the CD/DVD/Flash Drive image delivery method.  So, that starts the ball rolling with even more questions:

   
Do you feel that a Wedding Album is something you want?
Are you happy with prints only?  Do you want your images only to share on Facebook/Instagram and other social media?  Tell us more about what you do with your photos?
Is cost a factor in not getting a Wedding Album?
Do you make your own Wedding Albums through sources like Blurb to save money?
If you ordered an album and if it was a choice between 80 photos in a basic design or 40 photos in a more artistic design, which would you prefer?
Do you prefer more posed photos or more storytelling (candid) images?
Would you prefer lots and lots of untouched photos – straight from the camera, or do you prefer images that have been enhanced with color correction, cropping, and exposure correction.
Are you wanting some images that are more of a "dynamic portrait" where lighting and staging are done to make the image the best it can be?
And finally, we wonder just what brides know about wedding albums themselves.
Do you know what a "flush mount" album is?
Do you prefer a more creative layout design from one that is just photos on a page?
Are fancy covers like Italian Leather, Silk and Metallic  something you would want?
Are you aware that wedding albums can be created in any number of combinations of pages and "spreads"?
If I asked you if you would like an image layed out in a 2 page spread would you feel like I was speaking Greek?
Spread across two pages.
Spread across two pages with additional photos.
Two pages from album with inserted photos.  No spreads.
You see, we have lots of questions – and few answers.  So help us out, and tell us about what you like, what you don't like, what you want, and what you don't want.