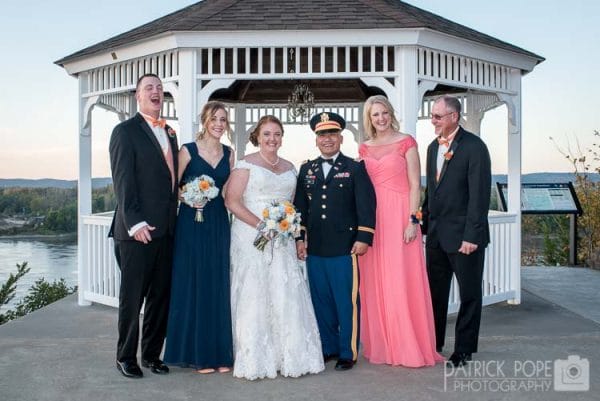 Guest Blogger: Patrick Pope – Patrick Pope Photography
(www.PatrickPopePhotography.com)
How Many Formal Photos – and How Much Time Should I Allocate?
Ah, the ubiquitous family group shots. They're not exciting, but they're an important part of most weddings. The fact is, nobody really likes posing for these and everyone is much happier when they get done quickly and move on with the day. Not to mention that some venues leave only a very tight window of time for these photos.
Rather than trying to cram in every possible group you can think of I recommend going with a 6+4 list which should keep formals to about 30 to 45 minutes. A short list is greatly appreciated by guests and family as well as the wedding party and will help to ensure they remember your wedding with a smile rather than a groan.
The 6+4 List
I always recommend four groupings; bride alone, groom alone, bride and groom together, and the entire wedding party. Each of these might actually be a couple different variations. That leaves an additional six groups for family or friends.
Notice I didn't include parents in the four recommended groups. I include those as part of the "six." Really, I don't even guess at family dynamics. Some couples have many sets of parents or grandparents while others have none at all.
I Want More!
You can certainly do more if you like, but the 6+4 typically list fits in a 30 minute window if everyone is on the ball. You'll want to budget more time for more photos or if any of the six is a particularly large group. Needless to say it takes longer to position a group of 30 than a group of six.
One thing I STRONGLY advise against: Do not try to get an individual photo with each bridesmaid or groomsman. Sure, you can do it, but it's long and tedious for you and your attendants and will seriously cut into time better spent having a good time. No matter how fast you think your photographer can power through them it always takes longer than you'd expect. Don't do it!
Pick a Designated Photo Helper
Assign an assistant from the family or wedding party who can help gather groups and round up people. Guests don't tend to pay much attention to the photographer, who they don't know from Adam, but tend to listen to someone from the family or wedding party. It also helps to speed the process considerably as one group can be getting together while another is being photographed.
List or No List?
A list can help keep formals time organized, but is not strictly necessary. Groupings can also be done by request on the actual wedding day itself. Be brutal when determining which are the most important groups and prioritize your "must have" shots over your "would be nice" images. Usually immediate family is at the top of the list.
The most important thing to remember about a list: Be flexible! People wander off, time runs out, or you simply get sick of standing and smiling and are ready to get on with the day. Don't be crushed if you don't get each and every one, particularly if it's a longish list. That's another reason to keep your list short, by the way.
If it's important that everyone, including yourself, has a great time at your wedding, a reasonable number of photos captured over a fairly short window of time will be a big hit. With just a little organization and some realistic expectations it's not hard to get the photos that are important to you and give everyone a fantastic wedding day experience.