While a military wedding is like any other wedding, there are some traditions in military weddings that are not found in civilian weddings.   These traditions add pomp, pageantry and patriotism, plus they create out-of-the ordinary weddings that are truly gorgeous and meaningful.
An enlisted man or woman can marry in uniform.  A female officer can choose either a traditional bridal gown or uniform.  For officers, evening dress uniform conforms to civilian white tie and tails.  Dinner or mess dress uniform is in accordance with black tie.  For non-commissioned officers, dress blues or Army green uniforms may be worn at formal or informal weddings.
If you're a graduate of West Point, The Naval Academy, or the Air Force Academy you may present your fiancée with a miniature of your own class ring.  Traditionally it is set with either a small stone similar to yours or a diamond.
If your bride lives at the military post, you should invite all officers and their wives to both the ceremony and reception.  However, if your fiancée lives off base, you can invite just your commanding officer, post commander, and their wives.
All active duty members of the wedding party should wear proper dress uniforms and accessories.   Military decorations replace boutonnieres on uniforms.  A boutonniere is never worn with a uniform.
At the ceremony, rank should be carefully observed when seating guests.  High ranking officers should receive seats of honor.  The Bride stands to the RIGHT of her groom, unlike a civilian ceremony.  All ushers stand to the left side of the bridesmaids in the processional.
Outside the church, officers in military dress form an arch with their swords or sabers (Army) with the cutting edge facing up.  The Bride and Groom pause under the arch, kiss, and then walk through.  It's a tradition for the two end guards to use their sabers/swords to tap the bride and groom on their backsides as a sign of good luck.  White gloves are required for all saber/sword bearers.  Enlisted men should stand at attention during this event.  There are a few differences in protocol between the Army's -Arch of Sabers, The Navy & Marine Corp's – Arch of Swords, and the Air Force's – Arch of Sabers so it is best to check with a commanding officer for specific details.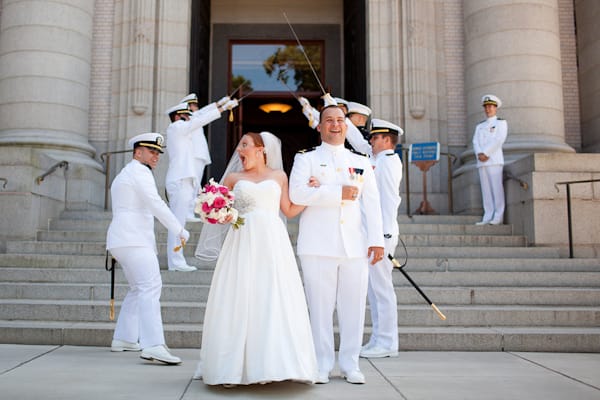 At the reception in the receiving line, the groom (if he is in uniform) precedes the bride in the receiving line.
The Cutting of the Cake also has a fun ceremony that is followed based on certain protocol.  Once again the bride and groom pass beneath the arch and use a sword/saber to cut the cake.  Each branch has traditions that vary slightly.