I am going to start you off with 20+ ideas to personalize your wedding, and by the time you get to the bottom of this list, you will have probably thought of several things as well.  Here we go:
Dress doors and entrances with flower garlands and fabric swags.
Have a garden wedding and hang lanterns lit by candles from sturdy branches.  At night keep guests warm by setting up ceramic chimineas (small outdoor firepots) or bring in a fire pit.
Food Stations – South Sea Island Menu & Drinks, Mexican Station, Sushi Bar, Mashed Potato Bar, Salad Bar, Pasta Bar — anything goes.
Order your own wedding Converse shoes as dancing shoes for the reception.  (Order from Converse.com)
Don't number the reception tables – name them after your favorite places, pets, travel destinations, movies, songs, etc.
Add a line for a DJ song request to your RSVP cards.   (Image blogs.mspmag.com)
Brand your wedding with a logo or monogrammed initials that are displayed everywhere – napkins, favors, etc.
Pick wedding colors that mean something to you.  Cardinal Fan – it's definitely Red.  Missouri Tiger fan – go for that Black and Gold.  You get the idea.
Why not choose a getaway vehicle to compliment your theme – Humvee limo, antique Rolls Royce, Motorcycle & Side Car, any 30s – 40s or 50s car, London style double decker bus, or just an old yellow school bus.  If you are getting married by the water, think about a boat for your getaway.
Serve your drinks on "My Two Cents" coasters.  (Image – bhldn.com).  Order at bhldn.com.
Choose a venue that fits your theme – Moto Museum in downtown St. Louis has over 50 antique motorbikes, Kemp Auto Museum.  Like animals?  Check out the Zoo.  If you like to garden – there are lots of choices like Missouri Botanical Garden, the Lily Pond at Tower Grove Park, or the Jewel Box
Pick an unconventional start time – like 5:12 – the exact time that you first meet, or when he proposed.
Create a signature drink.  Check out www.stirrings.com to find drinks that match your wedding's theme and color.   Have bartenders rim guests' glasses with salt or sugar in your wedding colors.  Want to conjure us some glamour…add a fountain that gushes champagne or your speciality drink.
Love vintage.  Rent vintage china, linen and décor.  Choose flowers that reflect the period like lavender, jasmine, etc.  Mix and match seating options using couches and chairs with pillows.
Bottle your own wine complete with romantic custom labels.  Serve at the reception or give as gifts.
For a great departure, provide sparkers for guests.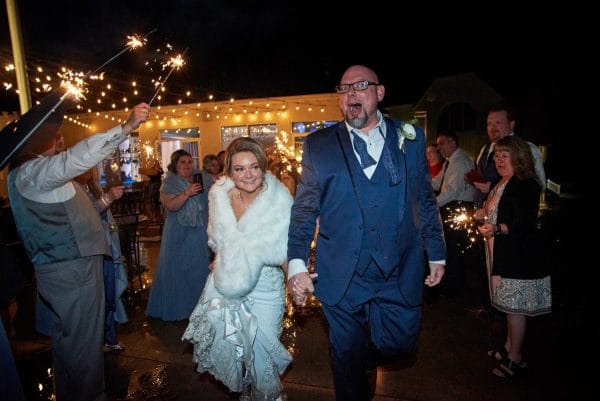 Love to dance?  Jitter swing the night away.  Be sure to pick a band that plays your favorite 50s, 60s, 70s tunes.
Elegant invitations are appropriate for elegant weddings.  But if your wedding theme is designed around a theme that shouts "YOU", make the invitation appropriate to the theme.  For example, if you both love western movies and horses, and plan to have a barn wedding – send something more appropriate to the theme.   Perhaps send a red bandanna and invite your guest to dress appropriately.  Ask your guest to wear their favorite boots and western hat.
Put a guest book next to the photo booth.  Ask guests to make an additional photo to paste in the guest book.   They can add their personal message on that page as well.
Serve up decadent chocolate truffles, custard from Ted Drewes, or popsicles spiked with liquor.
Ask your videographer to set up a stationary camera and let guests record messages – a video guest book.
Hire specialty musical performers for a brief performance at the reception – conga players, banjo, and even a bagpiper.   It adds a lot of excitement to the evening.
Let everyone have a good time – set up blackjack and casino card game tables.
Give guests the words to your first dance and let the guests serenade you as you dance.
And finally, serve the super popular, tiny white castle hamburgers at 11pm before your guests leave.
Wow, the ideas are endless.  So, we want to know what you are planning to make your wedding special. Send us your ideas now, and we will be posting them during the month – both on our blog and on our Facebook page.