It's now time to set a timeline for tasks that need to be completed.  You know your priorities, you have a budget and you know where the funds will come from.  If you have a one year engagement, the pressure to make decisions quickly is not a factor.  However, if you have less than six months, it's important to begin scheduling certain functions now.
Suggestions for lead times for various vendors are as follows:
For a typical One Year Engagement:
10-12 months – location contracted (both ceremony and reception)
10-12 months – begin looking for dress, allow at least 6 months for special order
6-9 months – photographer & videographer hired
7-8 months – send out save the date cards
6 months – hire band or DJ
6 months – purchase wedding rings
4-5 months – officiant contracted
5 months – invitations ordered
3 months – accessories purchased – shoes, veil, jewelry
3 months – florist contracted
3 months – arrange transportation if needed
3 months – groom fitted for tux or buy suit
3 months – write menu, write vows, choose music, prepare for first dance, create escort cards
3 months – buy gifts for wedding party and family, order cake
2 months – send out wedding invitations; set date for rehearsal dinner
2 weeks-  reconfirm all vendors
1 week – host rehearsal dinner
It your wedding is less than six months away and you are on a streamline budget, you might want to follow the following timeline:
First – check out Last Minute Weddings (www. BrideStLouis.com/specials) for great discounts and deals.  Many of our vendors list special prices for referrals from BrideStlouis.com to fill their calendar.
Now – decide and book location – park, family farm, venue; hire officiant
5-6 months – design and order paper to create invitations, email save the date cards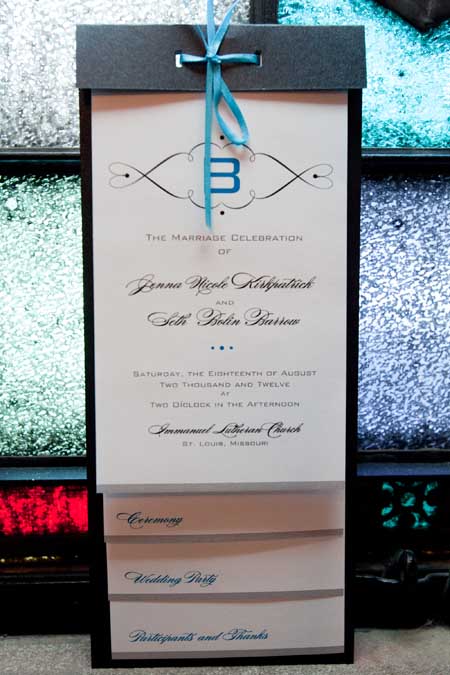 4-5 months – find photographer/videographer (don't skip here – these last a lifetime!)
4-5 months – begin making décor – table centerpieces, flower bouquets, and any DIY items.  Boutonnieres for the guys can be made from simple floral items.  Candles, sparkling jewels, and flower petals are nice for the guest tables.  You can even make your own Candy Buffet by buying bulk with lots of fun containers.
4-5 months – start looking for your dress.  Some brides buy them on-line.  But be careful.  Also check out Merchandise Reduction Sales at the various bridal shops.   I think some fun "white dresses" can be found in other than bridal shops.  Look at re-sale shops as well.  Shop for shoes, accessories, and a veil or hat.
3 months – Hire caterer – make food selections.  If providing your own liquor, stock up now.
3 months – Purchase wedding rings.
2 months – write vows, choose music (make tapes if you're not hiring a DJ), make invitations.
1 month – send out invitations, buy gifts for wedding party, and order cake.  Try a local bakery or order cupcakes to save money.  Or, buy a small one layer cake and accompany that with a sheet cake.  Check out Sams for flowers for the tables, and to create a simple bridal bouquet, but buy 1-2 days before the wedding.
No matter which wedding is yours – every dollar you spend – mark in on your wedding budget worksheet.  Negotiate payment schedules if necessary.  And possibly, neither of these timelines may fit your need, so feel free to make up your own, but be sure to allocate enough time so that you are not going crazy the last two weeks.
Planning a great wedding is all about managing your time and sticking to a schedule.