VENUE: Grbic Private Event Space
Website: www.grbicrestaurant.com
Phone: 314-772-3100
Representative: Erna Grbic
Email: [email protected]
Facebook: facebook.com/grbicrestaurant
Twitter: @grbicrestaurant
Instagram
Description: With our 15-foot ceilings, warm brick and tile interior and over 3,500 sq feet your event will surely be a memory for you and your guests to cherish forever. We are family owned and operated and take great pride in our unparalled level of service and client satisfaction. You can customize the look of your event with draping, lighting, stages, and more,. Our food is so much more than the standard banquet food and we can create custom menus as well. Our wedding buffet packages include items like Chuck Roast Steak, Beef Goulash and Roasted Red Pepper Chicken.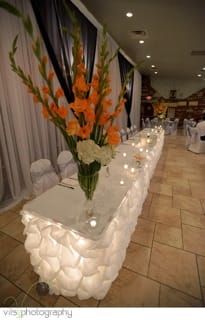 SPECIFICATIONS:
Venue Type: (Either Banquet, Restaurant, Golf Course CC, Winery, Hotel, Historic Home, Historic Bldg, or other) Banquet Hall
Venue Style: (Classic, Traditional, Outdoor w/Gazebo, Gardens, Barn, other) Traditional European
Total Minimum & Maximum Number of Guests: 100-350
Handicap Accessible: (Please detail) Yes, entry, parking, restrooms all accessible
Audio Visual Capabilities: Yes
On Site Event Coordinator: Yes
Cake Cutting Charge: No
Dance Floor Included: Neutral Tile flooring
Decorations Permitted: Yes
What's Included: Details Included in Review
Parking Options: Parking lot, Valet upon request
Ceremony Only Area: No
Outside Area: No
Bridal Prep Area: No
Pet Policy: None
Rehearsal Policy: Rehearsal is offered on Thursday evening up to one hour of time, if needed
ROOM OPTIONS & PRICES
What rooms are available & what is the price?
Room Name (Please list all rooms separately)
Rental Price: Room rental varies from $1500-$2500, Room rental charge is waived with our food and beverage packages
Maximum Number/Minimum Number of Guests 100/350max
Ceiling Height (12- 15 feet)
Chandelier(s) NO
Room Dimensions 3,500 square feet
Describe Space:
FOOD OPTIONS:
In House:
Price Range of Food Service Per/Person: $24+
Does that price include Basic Liquor Service? NO
What is the cost to upgrade to a premium bar service? Beverage packages start at $16+ per person (4-hour reception)
Is there a Food & Beverage Minimum: Yes, $5000 minimum
Do you have a Liquor License: yes 3am License
When is Food Tasting Scheduled: Food Tasting can be scheduled anytime after the deposit is received. Typically food tastings can be scheduled Tuesday, Wednesday or Thursday evenings.
Outside Catering: NO
OTHER OPTIONS & Additional Charges: All packages subject to St. Louis City sales tax and gratuity