With over 400 potential wedding venues here in the St. Louis area how do you find the right venue for you?  Things to consider include location, amenities, budget and what's included, size, and most importantly how does that venue fit "your" vision for your wedding.
Because you, like many couples today, want your venue to express your style and your personality, you told us that finding the right venue was your #1 problem.  Are you a couple that relishes the outdoors, are you a couple that loves the sophistication of a classy wedding inside a grand ballroom, or perhaps it's more about a lavish meal.  Every couple is different and unique and the venue you choose sets the stage for all the other choices you will make for your wedding.
And then there's the budget – there's a reason you created a budget.  Generally, the Venue/Reception for your wedding will eat up the most of your budget – usually somewhere near 50%.  As you compare venues to one another remember to consider what's included, such as linens, glassware, centerpieces, gratuity and taxes.  Get rental prices for the items you might need to rent, if not included, so that you can get a true comparison of costs. Gratuity and taxes usually add close to 30%, so absolutely don't forget to add that into your final figures.  If your total bill is $10,000, with gratuity and taxes that bill is now $13,000!
Find your PERFECT WEDDING VENUE without the stress.  You can click below to find your venue by location.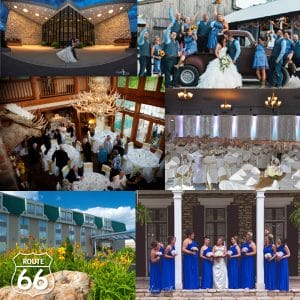 Venues in Missouri - All Other Areas
Can't Find the Right Venue - Check the Other Venues by Area
Areas are defined by ZIP CODES
St. Louis City:  63101-63104, 63106-63113, 63115, 63116, 63118, 63120, 63139, 63147
St. Louis South:  63119, 63122- 63123, 63125, 63126-63129
St. Louis North:  63031, 63033-63034, 63042, 63044-63045, 63074, 63114, 63121, 63133-63138, 63140, 63145
St. Charles County: 63301, 63303-63304, 63332, 63368, 63341, 63348, 63365-68, 63376, 63385-86
St. Louis Midtown:  63043, 63119, 63122, 63124,63105, 63117, 63130-63132, 63141, 63143, 63144, 63146
St. Louis West:  63005, 63011, 63017, 63021, 63025, 63026, 63038, 63040, 63069. 63088, Robertsville 63072
Lincoln County: 63343-44, 63347, 63349, 63362, 63369, 63377, 63379, 63381, 63389, 63390, 
Jefferson County:  63010, 63012, 63015-16, 63019-20, 63023, 63028, 63048, 63050, 63051-53 63065-66, 63070,  63087, 63627
Warren County:  63383, 63380, 63342, 63351, 63357, 65041
Franklin County: 63013-15, 63037, 63039, 63041, 63055-56, 63060-61, 63068-69, 63072-73, 63077, 63079-80, 62084, 63089, 63090
Missouri Other – All other zips 
Illinois – All zips