VENUE: The Christy Banquet Center
Two Locations: 9000 Veterans Memorial Parkway, O'Fallon, MO 63366
5856 Christy Blvd., St. Louis, MO 63116
Website: www.TheChristy.com
Phone: 636-240-7772 O'Fallon, 314-287-5263 St. Louis
Representative: Ron Preiss – O'Fallon, Kelly – St. Louis
Email: [email protected] – [email protected]
Facebook: www.facebook.com/TheChristyBanquetCenter
Description:

Planning your wedding is important and should be a day that is unforgettable. At The Christy, you'll receive personal attention.

We are here to make your special day memorable and stress-free. Our service is exceptional and we offer exceptional value as we include many extra at no additional cost.



SPECIFICATIONS:
Venue Type: (Either Banquet, Restaurant, Golf Course CC, Winery, Hotel, Historic Home, Historic Bldg, or other) Banquet
Venue Style: (Classic, Traditional, Outdoor w/Gazebo, Gardens, Barn, other) Traditional
Total Minimum & Maximum Number of Guests: 100 Minimum – 500 Maximum
Handicap Accessible: (Please detail) Yes w/handicap parking in front.
Audio Visual Capabilities: Yes
On Site Event Coordinator: No
Cake Cutting Charge: Yes
Dance Floor Included: Yes
Decorations Permitted: Yes
What's Included: 4 Hrs. Open Bar, China, Linens, Silverware, Water Service for Head Table, Uplights, Cheese & Crackers at the Bar, Choice of Colored Napkins & Table Tops, Black Floor Length Linens & Children under 6 are Free.
Parking Options: Free Parking
If all inclusive – what's included: See above.
Ceremony Only Area: Yes..we have an on-site wedding chapel that can accommodate 100 people maximum.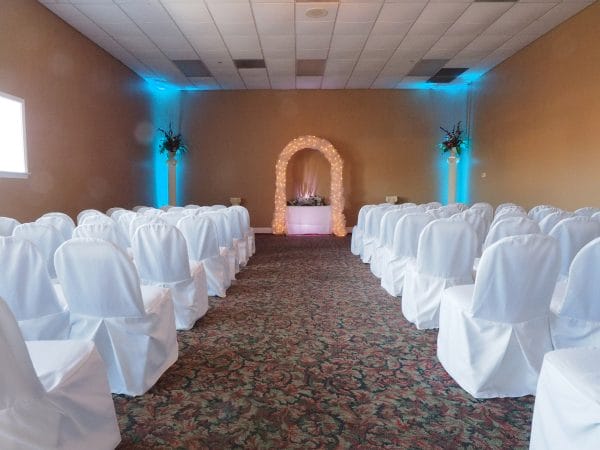 Outside Area: No
Bridal Prep Area: Yes
Pet Policy: No Pets
Rehearsal Policy: Yes. Scheduled by Appointment
ROOM OPTIONS & PRICES
What rooms are available & what is the price?
Gold Room – 100-175 guests
Ceiling Height 12 to 18 ft.
1 Chandelier
2700 Square Feet
Diamond Room – 180-250 guests
Ceiling Height 12 to 18 ft.
2 Chandeliers
5000 Square Feet
All rooms are square with NO Columns.
FOOD OPTIONS:
In House: Yes – In House Catering
Price Range of Food Service Per/Person: $25.95 to $33.95
Does that price include Basic Liquor Service? Yes
What is the cost to upgrade to a premium bar service? $3.50 per person
Is there a Food & Beverage Minimum – Just a per person minmum
Do you have a Liquor License: Yes
When is Food Tasting Scheduled: By Appointment
Are there preferred catering companies? None