VENUE: Petzold Banquet Center
Location: 5701 Highway N – St. Charles, MO 63304
Website: www.PezoldBanquetCenter.com
Phone: 636-936-1813
Representative: Susan
Email: [email protected]
Description: Every event is a special one at the Pezold Banquet Center. Our full-service, no-hassle packages include as little or as much as you want. Our expert staff will sit down with you to plan every detail of your event, working tirelessly to accommodate your needs from a la carte to platinum packages.
We're proud to offer three separate rental options. Book our club room with full-service bar, two large-screen televisions, pool table, shuffleboard table, and seating for eighty. It is perfect for birthday celebrations or family reunions. Need more space? Reserve either the Pezold or the Columbus rooms. Both rooms boast of a full-service solid oak bar, beautiful chandelier lighting, a parquet dance floor and carpeted main surface, and can hold 150 people. Want even more space? Remove the fully sound-proof wall dividing the Pezold and Columbus rooms for our McGiveny Hall, capable of seating 350. When the full hall is chosen your event will enjoy an expansive dance floor, two bartenders, and two food service lines.

SPECIFICATIONS:
Venue Type: (Either Banquet, Restaurant, Golf Course CC, Winery, Hotel, Historic Home, Historic Bldg, or other) Banquet – Knight's of Columbus Banquet Center
Venue Style: (Classic, Traditional, Outdoor w/Gazebo, Gardens, Barn, other) Traditional
Total Minimum & Maximum Number of Guests: 80-350
Handicap Accessible: (Please detail) Yes – No Steps
Audio – Visual: Utilize our brand new ceiling mounted LCD projectors capable for a floor to ceiling display.
On Site Event Coordinator: Yes
Cake Cutting Charge: None
Dance Floor Included: Wood Parquet
Decorations Permitted: Yes – No confetti, rice or birdseed
What's Included: White Linen Tablecloths with choice of colored overlay, table centerpieces with candles, cake cutting, and no charge for early open.
Parking Options: FREE, large parking lot.
Ceremony Only Area: No, but we can arrange for separate area for ceremony.
Outside Area: None
Bridal Prep Area: Yes, nice room for brides to freshen up.
Pet Policy: Case by case basis.
Rehearsal Policy: Rehearsals arranged individually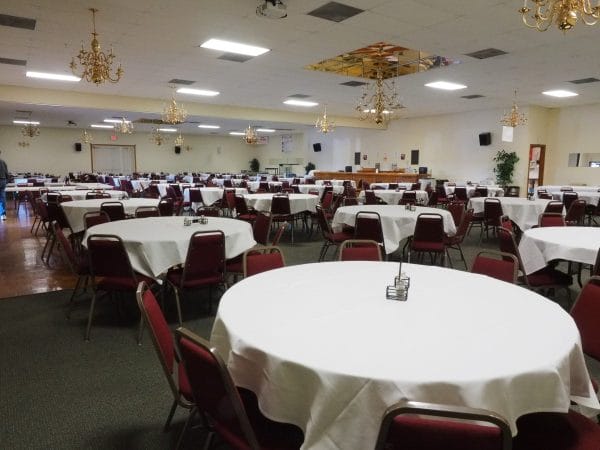 ROOM OPTIONS & PRICES
What rooms are available & what is the price? See description above for detailed information.
Room Name (Please list all rooms separately)
Rental Price – Varies by room
Maximum Number/Minimum Number of Guests 80-350
Ceiling Height – Standard 16 foot
Chandelier(s) Yes
Describe Space – Large Room with Bar
FOOD OPTIONS:
In House:
Price Range of Food Service Per/Person: Sunday thru Friday Evenings – Starts at $25.95, Saturdays start at $28.95 per person -(Prices for non-alcohol bar). With unlimited beer & wine Sunday thru Friday evenings start of $30.95 per person and on Saturday at $33.95 per person.
Does that price include Basic Liquor Service? See above
What is the cost to upgrade to a premium bar service? Yes – Premium Bar is available for a few dollars more.
Is there a Food & Beverage Minimum – No
Do you have a Liquor License: Yes
When is Food Tasting Scheduled: We have several tastings throughout the year.
Outside Catering: None