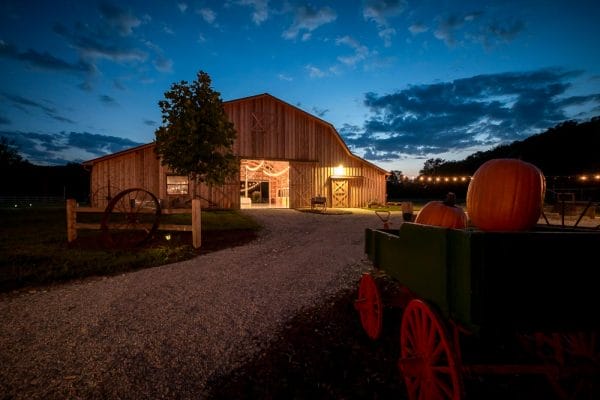 Barns are the latest trend and rage these days for romantic, intimate weddings!  However, they come with their own set of challenges.  Unlike the standard banquet room, barns do have special opportunities and limitations.  Here are some things you might want to check out:
The Must Have "Barn Wedding" Checklist
How many guests can the barn comfortably accommodate?

What does the rental fee cover?  Some barn venues provide only the space.  Some provide tables, chairs, linens, and more.)  Be sure to ask.

Are there restrooms on site?  Are there enough to accommodate all your guests.  Where are they located.

Is the barn equipped with electricity or do you need to bring in a generator?

If there a plan for excessive heat or cold to keep your guests comfortable?

Is there get ready space for the wedding party.   If not, is there a hotel close by?

Does the venue have a liquor license?

What are the additional fees?

Does the venue have a list of preferred vendors?  Can you choose others that may not be on their list.

When can the vendors set up?  Can décor and rentals be picked up the next day. 

Is there an on-site wedding coordinator?

Is the barn rain-proof?  If you are planning an outdoor ceremony, is there a plan for weather contingencies.

Is there enough onsite parking space?  Can guests easily walk to the event area for the parking lot?

Is there room to play outdoor games?

 Are there great areas for scenic photography?

What other options are there such as bonfire, hay wagon, etc.?
Today weddings in a barn offer the bride and groom a chance to hold their wedding in a very personable and unique location. A barn wedding can be dressed up or dressed down to match the style and decor of your wedding and offer endless charm.
Photography compliments of J. Graeler Photography and Patrick Pope Photography.