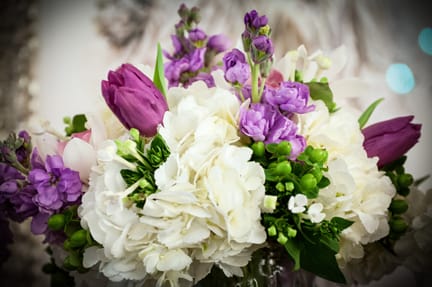 We encourage couples to create a "budget" for their wedding, itemizing individual cost estimates and percentages.  And one of the most asked questions I receive is, "How much should I budget for my bouquets and other floral requirements?"   After all, this is something most of us do only once in a lifetime. 
One of the most important ingredients that can make the wedding special is the decoration, and weddings are incomplete without blooms to contribute to the beauty of the décor.  Here are some estimates of the "average" cost in our area of wedding flowers.   Keep in mind that the average cost depends upon the availability of flowers and the total number of flowers needed for the bouquet fill.
We interviewed a number of local wedding floral vendors here to get these averages for you:
Product                                Range                    Average
Bridal Bouquet              $80-$300.00                  $ 175.00
Toss – Bridal Bouquet         $15-$35                  $   25.00
Boutonnieres                       $7 – $12                   $   10.00
Corsages                           $15 – $35                   $   17.50
Pew Bows & Greens             $8-$15                   $     8.00
Mother's Roses                   $7 – $20                   $   15.00
Bride's Maids                    $ 25 – $55                  $   40.00
Lg. Décor Bouquets         $75 – $150                   $   95.00
Flowers for Cake                $40 – $75                  $   50.00
Delivery*                       $50 – $125                     $   75.00
*Most couples forget about this expense
 To find ways to cut your costs you need to understand what makes bridal bouquets and floral arrangements so expensive.  There are several factors that affect the price of your flowers.
Flower Types –
The choice of flower can make a big difference.  To save money choose flowers such as carnations or daisies that are more easily obtained.  Bird of Paradise and other exotic flowers will cost a lot more as they are not readily available. 
Season –
Flowers have growing seasons, and if you buy in-season, you can save money.  For example, tulips are readily available in Spring, but definitely a challenge in December.  December has beautiful poinsettias in holiday shades of red, pink, and white that can make a real splash for your winter wedding.
Size –
The number of flowers in any arrangement will affect your final price.  A single bloom or very few blooms of a larger type of flower may cut down the cost of the bouquet, or a bouquet that consists of just one or two types of flower could also be cost effective.
Detail –
A simple bouquet is less expensive.  Anytime you add intricate detail or multi-layered for a cascading bouquet look for the price to go up.  A great idea to add volume and detail for a more elegant dimension is to add baby's breath, ferns or other type of greenery. 
Choices –
There are other options available as well.  If a beautiful bridal bouquet is important to you, keep the other floral items minimized.  For instance, the boutonnieres can be just berries or greens, the flower girl can throw paper petals, and the corsages for other family members can be a more diminutive size.