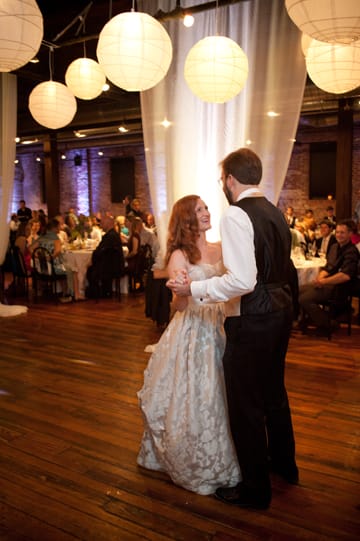 The entertainment for your wedding reception sets the mood and atmosphere of your event.  Keep in mind the location and size of your venue, the number of guests, and your budget.
Live Band
There is nothing like a live band to get guests up and dancing.  A good band can sense the mood of your guests and play music that is appropriate and that compliments your day.   While most bands can offer a huge selection of tunes, if you book early enough, they generally are willing to learn some songs that you would like.  Be sure to either go listen to them in advance or watch video clips before choosing.  Two bands that I have worked with include Mirage Entertainment (www.MirageStLouis.com) and The Matt McCallie Orchestra (www.mattmccallieorchestra.com) and I highly recommend either of them for your day.  Another option is to work with Penny Moon Entertainment Group (www.pennymoonandcoppercreek.com).  They are a booking company for many bands and can help you find just the right one.
Harp & Violin Music
For cocktail hour, ceremonies, and some receptions there is a certain elegance to either Violin Music or the romantic harp sound.
DJ
If you decide to go the route of a DJ, it's experience that really counts.  They all have thousands of tracks to choose from and are generally cheaper than hiring a live band.  They are responsible for keeping the evening flowing and orchestrating the events of the night.
Children's entertainers
Are you having a lot of childen at your reception?  Consider hiring something special for them like face painting, balloon sculpting, and other fun and games.  The parents will really appreciate your thoughtfulness.
Fireworks
For the right location, fireworks that light up the sky will create a truly spectacular evening and you will receive lots of raves from your guests.  We have a company here in town, Twilight Fire & Illusions (www.twilight-fire.com), that is license and insured and can assist with all the proper legalities.
Musicians and Singers
If you are going to be away from your guests for a long time, you might want to consider hiring musicians and singers for some entertainment.
This is going to be one of the biggest and best days of your life and we hope that this entertainment review helped you plan for that special occasion.