With the weather turning nicer, many brides have requested information about LOW COST or NO COSTS locations where they can get married.   We put this list together some time ago, but I think it was a great idea to update it, as there are some new additions we wanted to include.
Did we miss something?  Do you know of a place that should be included on the list?  Let us know, and we definitely will spread the word.
Alton Gordon Moore Public Park, Alton
Bellevue Park, Belleville.  It has a beautiful gazebo and a medium size lake.
Forest Park – Waterfall off Lagoon Street, The Muny Entrance (Gazebo and beautiful lake in front of the Muny), General Grounds, the Basin area, and Old World's Fair Pavilion are my favorites.  Don't forget about the Jewel Box (Outside).
Faust Park – By The Village, Outside the Butterfly House, or at the Thornhill Mansion grounds that is behind the Butterfly House.
Missouri Botanical Garden – That's not free, but it is beautiful.
Kiener Plaza – Recently Updated.  (I miss the old waterfall there!)
Carondelet Park
The Water Tower off Grand
Shaw Nature Reserve in Gray Summit.   It's $5.00 per person to enter, but it's worth it!   They have a beautiful lake and in spring 1000 of daffodils.
Oak Knoll Park in Clayton.
Bee Tree Park in South County.
The City Garden has a nice waterfall
The Old Courthouse Steps
Tower Grove Park – Most everyone knows about the ruins, the lily pond, and the many, many gazebos.  There is also a "secret" private garden with water feature on the South side hided away.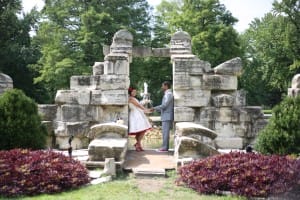 Castlewood State Park off Manchester Road in Ballwin
The J.C. Stage in St. Charles on the Riverfront.  It cost a little to rent, but it's very nice.  They also have two other smaller pavilions.
Why not on The Arch Grounds?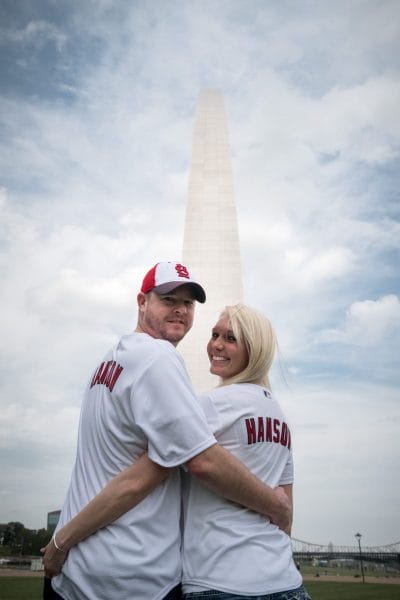 Lafayette Square & Park
Laumeier Sculpture Park
Queeny Park in Manchester
The New Chesterfield City Park
St. Ferdinand Park in Florissant – Both Lake & Gazebo.
Various New Town Locations in St. Charles
Drace Park in Des Peres – not well known, but very nice.
Longview Farm off Clayton Road in Town & County.
Creve Coeur Lake Park
Kirkwood Trail Station (Get married inside the train station.  A great location when the weather is bad.)
Fort Zumwalt Park (Closed at the Christmas Season)
August Busch Memorial Conservation Area – Lots of beautiful Open Space & Ponds.
Weldon Springs Clark Park – This park has awesome views.
Kister Park Gazebo – Great for Photos (That's the gazebo in downtown St. Charles …and there are bathroom below!)
Why not on the steps of the Cathedral Basilica of St. Louis (It's beautiful) or at the St. Louis Art Museum.
I know there are many more great locations, so if there is something we missed, let us know and we will add it to the list.