Guest Post courtesy of Patrick Pope of Patrick Pope Photography (www.PatrickPopePhotography.com)
Ah, the run-around photos. Some think of them as part of the formals, but frankly I think they're completely different. Formals are the line-up photos of family and wedding party done at the venue and are about as creative as making a bowl of plain oatmeal. On the other hand, run-arounds, where you head to the park or around town, are much more relaxed and potentially creative.
Remember, the goal is to get plenty of great photos in timely manner and then get on with the party. But there are a lot of things working against us. Time. Weather. Even lack of interest or cooperation.
So here are a dozen (experienced) tips to help make sure you get the most from your wedding day run-around photos.
Work as a team. Your photographer needs your cooperation and the cooperation of the entire wedding party. Really good photos on location take some time to create. It takes time to arrange everyone and to get all the exposure settings dialed in. I want it to be fun and relaxed, but at the same time we need to be focused on photos for this part of the day so that you can get on with the party.
Avoid distraction. If possible, try not to let too many family and guests tag along. Everyone wants to help or talk or ask questions about other things and that takes away from the time we should be dedicating to photos.
Be realistic about the weather. If you have a summer wedding and you want outdoor photos in the afternoon, know that it will be hot. You will be uncomfortable. You will sweat. Likewise a spot in the glaring sun (ie. at the Grand Basin) will result in photos in which everyone is squinting. There is simply nothing that can be done about this except to avoid spots that are in direct sun. Most photographers will happily setup and shoot a photo in the sun and heat of the day if that's what you want, but just be realistic about the squinty, sweaty result. Of course, you should always…
Have an indoor backup. It could rain. It could be 100 degrees. You don't want to be outside in that. Have a plan for indoor photos. Some favorites are Union Station and the Ameristar Casino.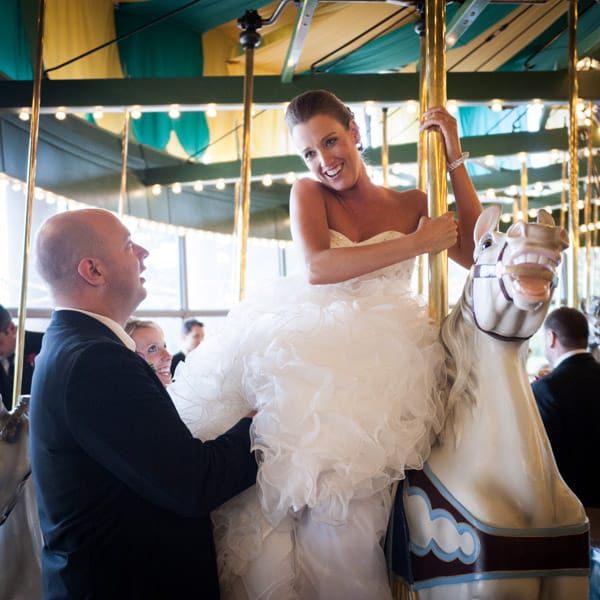 Remember your photos are more important to you than to the rest of the wedding party. It's harsh, but we all know it's true. To you, photos represent great memories of your special day. To many bridesmaids (and 90% of groomsmen) running around for photos represents an uncomfortable and unwanted interruption to what would otherwise be one big party day. So be sure you make it clear to the wedding party that everyone will be done quicker and have a better time if they all listen and cooperate. If the bride and groom tells them this, they will listen.
More photos of you, less of the entire wedding party. This is YOUR day, after all. Yes, get some nice photos of the entire party, but 80% should be of just the two of you. Plus you'll get more photos because it doesn't take nearly as long per shot to arrange two people as it takes to arrange the entire group.
Don't plan too many different locations. After a while it starts to look like the same photo with a different background. Consider limiting locations to one or two really good spots rather than a whole bunch of so-so stops.
Do something different and fun that expresses your personality. Standing in front of the waterfall at Forest Park looks very pretty, but what does that photo say about who you are? Photos should express your personality and interest as much as simply document what you look like. Do you like hiking and the outdoors? Do you fix up old cars? Do you love trains? Maybe you prefer going to the arcade (yes, I'm a child of the 80s). Consider doing something that really expresses your individuality such as the Transportation Museum with the old steam locomotives, or get crazy and rent a couple bicycles at Creve Coeur Lake Park for an hour. Let your creativity run wild and make it fun.
Limit the alcohol. I know, I know. I'm a serious drag. But in my experience the number and quality of photos you can get decrease significantly as the alcohol intake increases. The wedding party becomes more interested in goofing around and it takes three times as long to put each photo together. I'm not saying to avoid a beer or two entirely, but know that a big ol' cooler of beer will likely mean fewer photos at the end of the day.
Remember to consider travel time. It's surprising how many couples only leave an hour for run-around photos, but need 50 minutes of that time to drive to and from the location they want.
Forget Pinterest. Seriously, you are unique. Don't just copy what someone else has already done.
Finally, be sure you clearly communicate what you're looking for. I do NOT mean a list of photos, but rather an give an overall idea of the style you want. If you want posed and staged or if you want a more candid feel, be sure to let your photographer know. But, for the love of Peat, don't say something like, "I want FUN photos." That could mean ANYTHING. To one person "fun" means contrived photos of the wedding party jumping in the air. To someone else "fun" means completely candid photos at the bar.
When all is said and done, the run-around photos will likely be the ones you look at over and over again for years to come. Make the most of your limited time to get as many great photos as you can.