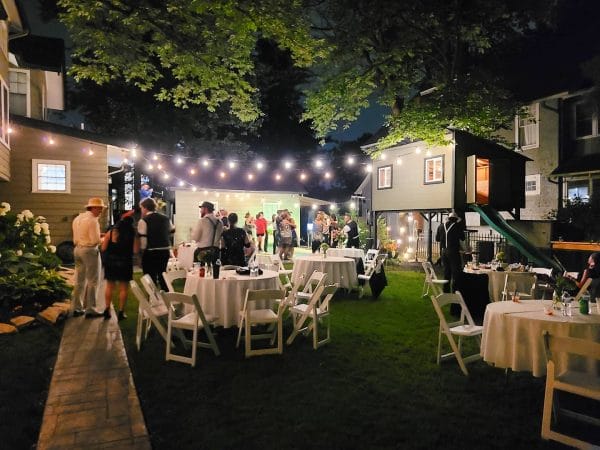 Getting married is a major life event that you'll never forget. If you're planning to walk down the aisle with that special someone, a backyard wedding could be a great way to say your vows and tie the knot.  However – it may not be as "budget" friendly as you might think.  So, be sure to read on.
Start with the Logistics
Before you pick out favors and décor, start with the logistics. How successful your wedding is will depend on where you live, the time of year, and the weather. Try to nail down a date where you feel confident the weather will offer you a glorious day.  (Hint:  Summer can be way too hot in our area!  Think "Fall" and always have a "Plan B" for rain!)
You'll also want to find out how to get the right amount of power for music, lighting, and more. An extension cord might do the trick but be aware that it also poses a trip hazard. And you might need multiple power lines – so make sure your line can handle the demand. Determine how much equipment will be needed for the wedding so you can get the proper power source set up. You'll likely need a generator to create power for things like speakers and catering equipment.
Now is the time to clean up your yard and get it ready for the big day. Get rid of old dead plants, tree branches, and weeds to create a clean slate for your ceremony and reception. Come up with a layout for seating so it will be easier when it's time to set everything up. Another crucial thing to keep in mind is wedding insurance. You might not think you need it in your own backyard, but it's good to see what's covered in case a guest gets injured on your property. Other things to consider include parking and notifying your neighbors in advance.
Once you've listed all of the logistics, the fun part begins. Think about the special features you'll want to include in your backyard wedding. From a specific theme to your flowers, write down a list of ideas and tweak them as you go. Do you want an outdoor dance floor? How about separate tables and chairs for the reception? If your backyard is extremely sunny, you might want to plan to rent a tent.  Brainstorm several different features you'd like to see so you can start planning ahead as early as possible.
Benefits of a Backyard Wedding
While a formal venue is always nice, there are plenty of awesome benefits to getting married in your backyard. First and foremost, you'll save a ton of money on the cost to rent a venue which can run you into the thousands of dollars. That fact alone makes considering a backyard wedding worth the effort! Aside from saving money, here are some other benefits and tips of hosting a backyard wedding:
If your pets are part of the family, you can enjoy their company at the wedding.
Aside from the wedding itself, you can also host a backyard rehearsal dinner. Have casual food like barbecue catered in, or just cook some food on the grill for your wedding party to enjoy.
Since your backyard probably has limited space, that means you can keep your guest list small, too. The fewer guests you have, the less money you'll need to spend on things like food and entertainment.
Backyard weddings give you the flexibility to choose any date you want to get married. Instead of planning around the "wedding season" to find an open slot, you can pick any day you like when you host your own backyard wedding.
You might be nervous about getting married but doing it in a familiar place is a great way to calm those nerves and help you feel more relaxed and at home.
Your Actual Cost May be MORE Expensive
You will most likely need to rent chairs, tables, a tent, and a dance floor.  Tent rentals are always in demand, so don't wait unit the week before to try to rent one.  And renting a tent is not a "cheap" affair.  They are expensive any many times exceed the cost of a regular indoor venue.
You still need a photographer, cake, officiant and a DJ.  And then you will need to hire a catering company.  Check to make sure they provide all the flatware, dinnerware, etc., or you may also need to rent those items as well.  The flowers and décor that you choose will also play a significant part of your expense.  And finally, you need to consider the alcoholic drinks.  There are specific liquor companies you can hire to serve or you will have to plan to purchase an amble supply along with ICE.   Lots and lots of ice!  And containers for the iced refreshments too!  Have plenty of water and non-alcoholic beverages for guests to grab.
You need to have adequate lighting for your guests' departure.  Display lanterns or luminaries help indicate where guests exit.  Additional things to have on hand and very useful include bug spray, suntan lotion, flashlights, garbage bags, and paper towels.
Don't forget about help putting everything out and together.  It's a BIG job.  You need someone to put up the table, tablecloths, centerpieces and other décor, plus line up the chairs from the ceremony area and then back to the reception, and organize the refreshments.
Consider renting a Portable Bathroom.  Do you really want 75 people in and out of your one bathroom in the house?
Have A Plan B in Place
There's no way you can predict the weather to a T, so be sure you have an alternate "Plan B" in place just in case the storms roll in. Weather can change in an instant which means you might end up dealing with unexpectedly cold temperatures or a dangerous rainstorm. Draft up a reasonable Plan B where you can move everyone inside your home. If you're insistent on keeping the celebration outside, rent a tent that you can use in case of an emergency. Ensure that the sides of the tent are covered to protect everyone from the rain. If the weather happens to be unseasonably hot, have plenty of fans available to keep the air circulation. If it's cold, stock up on outdoor heaters. Having these safeguards in place will keep your stress level low and the wedding moving along.
Timeline
Wedding planners are experts at creating the perfect timeline. If you're doing everything on your own, it's crucial to make sure you create a timeline that works. Do your best to schedule the ceremony somewhat early so the skies don't get dark before you've said your vows. Try to avoid too much downtime between the ceremony and reception since the guests won't need to travel between venues.   Consider a few fun backyard games or activities to keep everyone entertained while formal photos are taken. Finally, remember to be mindful of your neighbors and try to agree on an official time when the reception is over. You can always move the party to a local bar or another hot spot later in the night.
DIY Décor and Inspiration
If you're planning a backyard wedding, you're likely already working on other DIY ideas when it comes to themes and décor. Doing everything yourself gives you the freedom to create almost any style decor using any theme imaginable. Here are some suggestions to inspire you and prompt you to create a memorable theme with beautiful décor that's all done DIY:
Hang outdoor string lights throughout your backyard to create a warm, magical glow when the sun goes down.
For autumn weddings, focus on beautiful colors like orange, red, and gold for décor, flowers, and bridesmaid dresses.
Place non-breakable containers on each table and fill them with freshly cut flowers you picked from your own yard.  Avoid GLASS – wind can topple them over and crash to the floor.
Laminate some of your favorite photos of you and your better half to protect them from the weather, then display them on rope or string and hang them from a tree or around a fence line.
Get creative with seating and place a few vintage sofas and chairs outside. You can also use some hay bales as seating if you're aiming for a wedding with a rustic or farmhouse theme.
One of the bonuses of an outdoor wedding is the natural beauty around you.   Be prepared to keep your guests comfortable, and you will shine as the perfect host on your day.