The color pallet of a wedding can indicate the season, such as Oranges & Browns for Fall, Pinks for Spring, etc.  However…color can also speak of your individual personality and the relationship that you share with your significant other.  I think Mondays deserve just a little fun to lighten up the back to work day, so let's see what color expresses who you are?
Black (the newest trend) is classic, intense, and demonstrates a strong opinion about design and sophistication.  It is timeless and elegant and can compliment almost any other color.
Purple (or eggplant, plum, etc.) is associated with royalty.  Devotees of deep purple shades are creative, talented, and provocative.
White (or Ivory) is symbolic of a fresh, clean start.  White has a strong connection with purity, youth, and perfection.  It represents peace and tranquility.  It may also symbolize a desire for simplicity of the simple life.
Red represents those who are impulsive, outgoing, and strong willed.  Couples who choose red are dramatic, optimistic and have a strong, dominating spirit.  Red is the color of strength, health, and vitality.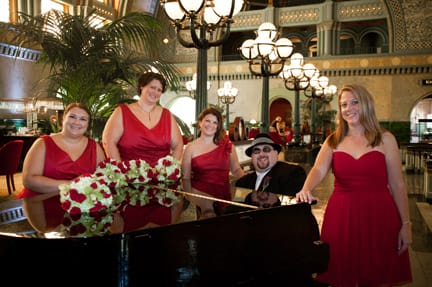 Yellow is for couples who are creative and idealistic.  It expresses happiness, cheer, wisdom, optimism and hope.  It is the color choice of someone with a sunny and shrewd personality.
Blue is the color of trust, honesty and loyalty.  Those who choose blue are more conservative and introspective.  Blue is smoothing, compassionate, calming and tranquil.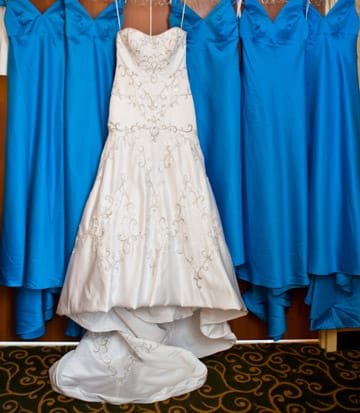 Orange represents happiness and is a good choice for couples with an exotic sense of style.  Couples who choose this color tend to be trendy, enthusiastic, fearless, and flamboyant.  Orange people are curious and restless..
Pink is playfulness and sweetness.  Pink people require affection and like to feel loved and secure, and tend to appear charming and gentle.
Green is an earthly color that symbolizes fertility, balance and growth.  It's a common choice for eco-friendly brides.  Green is a choice of couples that are fairly sociable, modest, and patient.
Brown relates to security, protection and contentment.  Those who choose brown tend to be very solid and substantial, conscientious, and dependable.
So, what is your color?