Venue Name: Pere Marquette Lodge and Conference Center
Address (City, State, Zip): Grafton, IL. 62037
Website: www.pmlodge.net
Phone Number:  618-786-2331
Representative: Leslie Franklin (Advertising and Marketing) Arielle Tewell (Director of Catering & Wedding Coordinator)
Facebook Site: Pere Marquette Lodge & Conference Center
Twitter Site: @pmlodge
Description of venue:  Pere Marquette Lodge and Conference Center is set in the rolling bluffs just outside Grafton, Illinois and overlooking the scenic Illinois River. Pere Marquette Lodge is a grand, historic building built in the 1930s. It is a treasure-trove of nature and beauty with a rustic feel, located on 8,500 wooded acres. The Lodge will create an unforgettable ambiance and backdrop for your wedding day.
We can accommodate beautiful ceremonies and receptions for up to 250 guests while offering wonderful package options, delicious on-site catering and comfortable lodging for your guests. Pere Marquette Lodge features 50 lodge guest rooms and 22 natural stone cabin rooms – all are perfect for a romantic wedding celebration.
SPECIFICATIONS:
Venue type: Banquet Space, Hotel, Winery, Restaurant, Historic Building
Venue Style: Rustic, Earthy
Total Minimum & Maximum Number of Guests: $500-$8,000, the minimum depends on what day and month you select. If you meet the set minimum, the banquet space is at no charge. 250 is the maximum number of guests.
Is your venue Handicap Accessible: Yes. Details: Access to ramps, elevators in building, and handicap hotel room options.
Do you offer Audio Visual Capabilities: Yes. If yes, details: Speakers, microphones, converters, power strips and extension cords all available.
Is there an on Site Event Coordinator: Yes.
What is your cake cutting charge: No charge, this is offered complimentary.
Is dance floor included: Yes Is there an extra charge: No
Are decorations permitted: Yes
Please list anything that is not allowed: No outside food or beverage, except for wedding cakes or dessert in place of a wedding cake. Food must be catered through Pere Marquette.
What's included with your facility: 6ft rectangle tables, 8ft rectangle tables, 60 inch round tables, table cloths, table skirting, chairs, cloth napkins, decorative mirror plates, votives with candles, glassware, utensils, water goblets, complimentary champagne toast for the head table, complimentary Bride and Groom room, on site wedding coordinator to help with the planning and timeline of events.
Parking Options: Complimentary on site parking
Is your venue "all inclusive": No
Do you have ceremony only locations: No
Do you have an outdoor area: Yes, we have 2 outdoor areas to choose from- our cabin lawn or our river lawn. Our cabin lawn is set in the middle of 7 rustic, stone cabins surrounded by beautiful trees and overlooking the massive lodge. Our river lawn is in an open, green space and provides an excellent view of the river.
Are there good photographic locations close by: Yes! We are inside of Pere Marquette State Park. The State Park is on 8,000 acres of wooded area and has several look-out points on the bluffs. From these look-out points, you can see the river and clear over into St. Louis County. Our lodge grounds also make for a beautiful back drop. Not to mention, our massive 700 ton, 50 feet tall, double sided stone fireplace.
Do you provide a Bridal Prep Area: Brides are able to use booked hotel rooms to get ready in.
Do you provide an area for Groom & Groomsmen: They are able to use booked hotel rooms to get ready in.
What is your pet policy: No pets allowed unless okay'd by our General Manager.
What is you rehearsal policy: Rehearsals are done on your own time here at our location and are at no cost.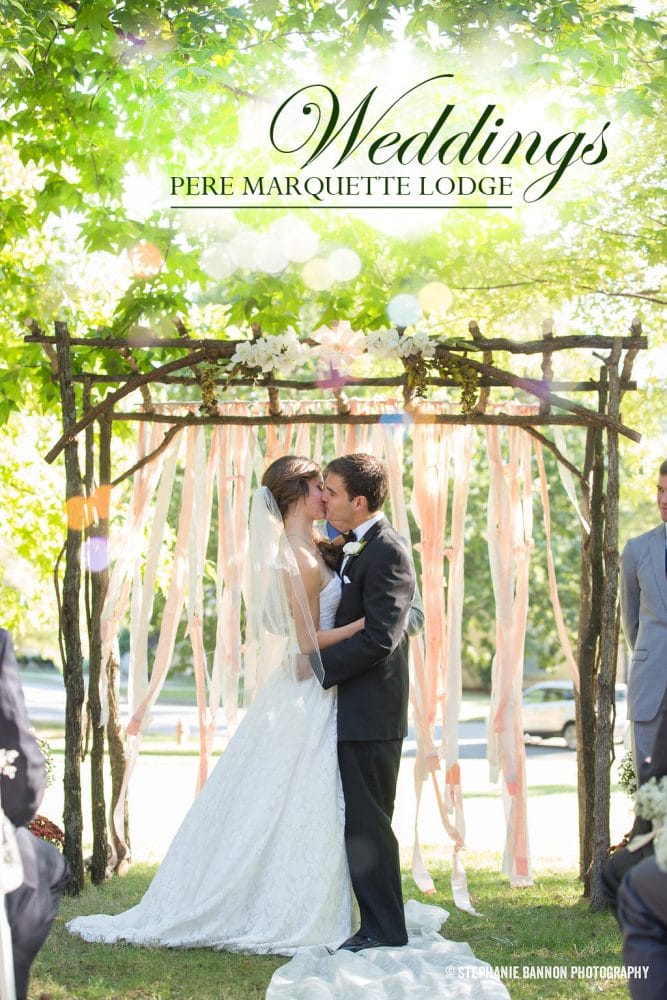 ROOM OPTIONS & PRICES
Room Name: The Grand Ballroom
Rental Price: If you meet your given food and beverage minimum, the space is offered at no charge.
Maximum Number/Minimum Number of guests: 1-250
Ceiling Height: Vaulted ceilings
Chandlers: 8
Room Dimensions: 77 feet X 37 feet and 8 inches
Describe Space: 2,900 square feet of flexible venue space with a great atmosphere and view to enhance your reception. The conference area can accommodate up to 250 guests and can be sectioned off to cater to smaller receptions. The space offers 8 massive chandeliers, a window wall overlooking the river, a balcony, and 2 stone walls.
FOOD OPTIONS:
Is all food provided IN HOUSE: Yes, everything except wedding cakes.
Price range of food service per person: $16.95-$32.95
Does that price include Basic Liquor Service: No
What is the cost to upgrade to a premium bar service: We have multiple bar packages to decide from.
Is there a Food & Beverage Minimum: Yes. Anywhere from $500-$8,000. Minimums depend on the day and month decided upon.
Do you have a Liquor License: Yes
When is food tastings: We do not offer tastings because several options can be purchased in our onsite restaurant.
Is there outside catering options: No.
OTHER OPTIONS & Additional Charges: Tax, gratuity, and the $200 ceremony fee.