Do you have your heart set on an outdoor wedding?  While I personally love a beautiful outdoor wedding there are many considerations that need to be made before moving forward with that event.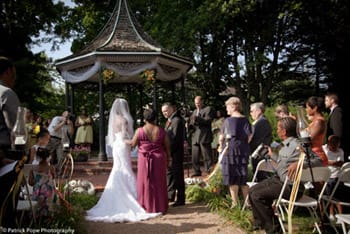 First and foremost, you need to consider the weather.  Will it be hot?  What about the possibility of rain?
What other elements could cause distractions for your guests and your ceremony?  In spring the St. Louis area can have many rainy days, in summer – even as early as the first week of June – there is humidity, and later in summer, the heat of hot summer days.  Whenever you choose to get married outdoors it is imperative that there is a weather option in place.
Aside from the weather you need to consider bugs and flying insects – especially if you are near water.  Consider having bug zappers or electric insect repellents, and/or citronella candles.  And then there is the wind.  I bet you didn't think of that.  Unity candles will go out in a heartbeat, flowers and décor can go flying
Finally, music and sounds systems will need speakers and amplifiers.
If you are considering a beach wedding, aisle runners are a hazard on sand.  Beach gowns, tan slacks, short sleeve tropical shirts or white shirts, and sandals (or barefoot) are appropriate and fun.  Keep plenty of water available for guest especially on those hot, hot days.  And if you want a sunset wedding ceremony – timing is everything as the sun will set whether you're ready or not.
Many brides-to-be have asked about locations in our area for an outdoor event.  Here are some of my favorites:
Piper Palm House – The Water Lilly Garden area
Various Golf Courses – out on the course
Family Farms
Old World's Fair Pavilion in Forest Park
The Missouri Botanical Garden
DeMenil Mansion
Various County Parks
If you have some additional ideas yourself, we'd love to hear from you.  Tell us more about them, and what makes then special.  Even send us photos if you have them.