Recently we had a future bride ask about outdoor places with gazebos or gardens that could be used for wedding ceremonies.  (She was looking for FREE or almost free!) I can't believe we haven't written about this.  So – I tossed together some locations that come to mind.  We, of course, would love to hear any additional suggestions from you that we can share with our readers.
Alton Gordon Moore Public Park
Bellevue Park, Belleville.  It has a beautiful gazebo and a medium size lake.
Forest Park – Waterfall off Lagoon Street, The Muny Entrance (Gazebo and beautiful lake in front of the Muny), General Grounds, the Basin area, and Old World's Fair Pavilion are my favorites.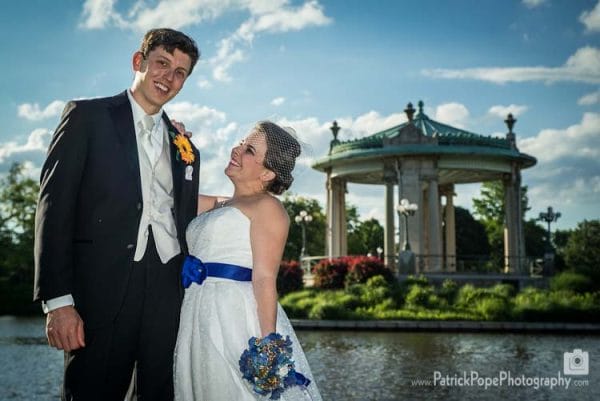 Faust Park – By The Village, Outside the Butterfly House, or at the Thornhill Mansion grounds that is behind the Butterfly House.
Missouri Botanical Garden – That's not free, but it is beautiful.
Kiener Plaza – Now just a memory.  We will see what happens when they complete renovation.
Carondelet Park
The Water Tower off Grand
Shaw Nature Reserve in Gray Summit.   It's $5.00 per person to enter, but it's worth it!   They have a beautiful lake and in spring 1000 of daffodils.
Oak Knoll Park in Clayton.  It's behind the St. Louis Artists Guild.
Bee Tree Park in South County.
The City Garden has a nice waterfall
Tower Grove Park – Most everyone knows about the ruins, the lily pond, and the many, many gazebos.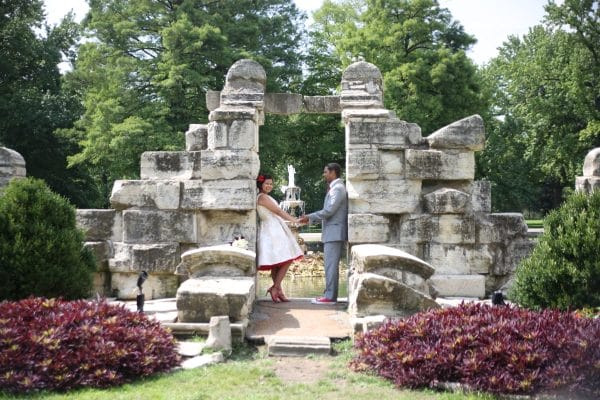 Castlewood State Park off Manchester Road in Ballwin
The J.C. Stage in St. Charles on the Riverfront.  It cost a little to rent, but it's very nice.  They also have two other smaller pavilions.
Why not on The Arch Grounds?
Lafayette Square & Park
Laumeier Sculpture Park
Queeny Park in Manchester
The New Chesterfield City Park in St. Charles
St. Ferdinand Park in Florissant – Both Lake & Gazebo.
Various New Town Locations
Drace Park in Des Peres – not well known, but very nice.
Longview Farm off Clayton Road in Town & County.
Creve Coeur Lake Park
Kirkwood Trail Station (Get married inside the train station.  A great location  when the weather is bad.)
Fort Zumwalt Park
Quail Ridge Park – St. Charles County. A favorite location of mine with gazebo and beautiful lake.