It's true, weddings can be expensive!   However, there are ways to still get married and not start married life in deep debt.  I have heard nationwide estimates of $27,000 for the average wedding, but here in the St. Louis area, I find that the average cost is closer to $23,000.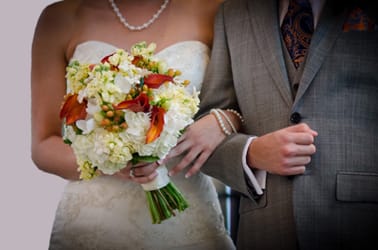 What if you can't afford to pay for the wedding yourselves?  Most couples share the expense with both families; after all it's a celebration for both families.  Talk with your families about who will pay for what and ask them to commit to either a certain dollar amount or pay a particular aspect of the wedding – such as flowers, photography, etc.  Another idea is to encourage friends and guests to gift with cash, as most couples already have the basic necessities of everyday life.
Then, of course, you can spend less for your big day – and it's really doable.  The easiest way to save is to cut down on the number of invited guests.  Quite honestly, smaller intimate wedding can really be a lot more fun and a lot less stressful.  You can still have a beautiful dress, flowers and food –and photography, of course, but as the reception can sometimes be as much as 50% of the total budget, this will have a huge impact and can save you significant money.