VENUE: Friends  – A meeting Place
Website: www.friendsameetingplace.com
Phone: 314 535 5800
Representative: Jean McClendon
Email: [email protected]
Facebook: Friends a meeting Place
Twitter:
Instagram
Description: Eclectic venue Consists o a large living room with fireplace, baby grand piano, pool table, and furnishings. There is seating for approximately 50-60 guests. This area is often used as a mingling area, for your cocktail hour, or for small parties. Southwestern earth tones will accentuate your favorite colors. The banquet area is separated from the living room by a glass wall, and will seat 150 at round tables. For larger, more casual events, the facility is licensed for 300. Will accommodate small intimate parties, as well.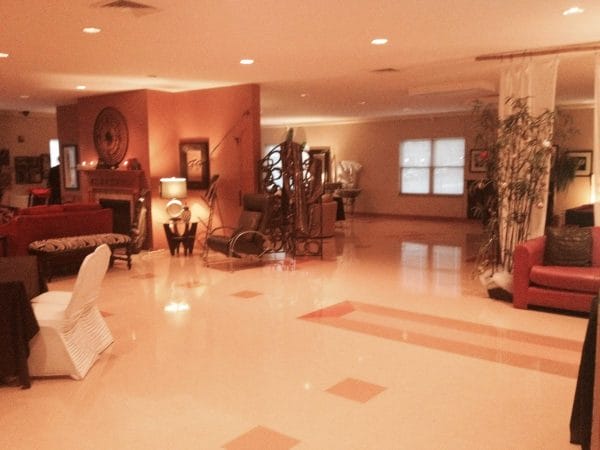 SPECIFICATIONS:
Venue Type: Banquet
Venue Style: Very unusual, intimate, cozy, immaculate.
Total Minimum & Maximum Number of Guests: Under 80 Guests
Handicap Accessible: No steps on property
Audio Visual Capabilities: available
On Site Event Coordinator: Yes
Cake Cutting Charge: Yes
Dance Floor Included: Parquet
Decorations Permitted: No taping to walls or ceilings
What's Included: Faciity only
Parking Options: Free on site parking
If all inclusive – what's included:
Ceremony Only Area: For small weddings under 80 guests
Outside Area: N A
Bridal Prep Area: yes
Pet Policy: NA
Rehearsal Policy: Yes During week prior to wedding
ROOM OPTIONS & PRICES
What rooms are available & what is the price?
     Living Room plus banquet $1000.00/5 hrs
     Living room alone for 50 or less guests $500.00
Ceiling Height regular
Chandelier(s) N A
Room Dimensions total 8000 sq. ft.
Describe Space:  see photos
FOOD OPTIONS:
In House: available
Price Range of Food Service Per/Person: 16.00 up
Does that price include Basic Liquor Service? No starts @ $5.00 Hour/Guest
What is the cost to upgrade to a premium bar service? $20.00 per guest Varies
Is there a Food & Beverage Minimum No
Do you have a Liquor License: Yes
When is Food Tasting Scheduled: As needed
Outside Catering:
Are there preferred catering companies? Yes