It's time to talk about making your wedding reception something that family and friends will be talking about for years.  You don't have to spend a fortune.  You just need to add some extra pizazz and show guests that you really appreciate them.  Let me explain what I am talking about.
After years and years of attending many weddings, I find the weddings that I remember are the weddings that surprise me.  And it's the little things that make the biggest difference.  Here are a few examples.
Serve Pre-Ceremony Cocktails – Guests will not expect any drinks until the cocktail hour or reception and if it's hot, like it has been here lately in St. Louis, why not serve light mimosas, iced teas, wine coolers or flavored waters as guests arrive for the ceremony.  Let your guests relax and sip a refreshing beverage – nothing strong.  Then, just prior to the ceremony, collect the stray glasses or bottles.  It's a small thing with big rewards!
Serve Sparkling Grape Juice or Light Wine for a toast during the ceremony (where permitted) celebrating the new Mr. and Mrs. just after the kiss.
Child Care – Hire a babysitter and rent a small room, preferably close to the reception area, so that the youngest guests have a place to play, color, and have fun while the parents get to really enjoy themselves without the distraction of managing their children.  Provide child loving snacks, games or perhaps a portable DVD player with a movie or two to keep the kids entertained, and provide a blanket or two for kids to nap on the floor.   It's such a low cost, thoughtful gesture.  I remember when I was a parent with a small child, this would have really meant a lot to me – to have an adult night, dancing, talking, and having fun without chasing the kids.
The After Party – A new trend that's really taking off like hot cakes here in our area is the "after" reception party.  Invite your closest friends to a local bar, hang out, game place, or other fun location for an hour or so of relaxed socialization after the big party.  It's a time where everyone kicks off their shoes, lets their hair down, rubs some sore feet, and just hangs out.  Serve some light snacks, pizza, or sliders with some local beer or other beverage.
Other entertainment – One bride hired a bagpiper to make a grand entry into the reception to start the party!  Wow!  That's was a lot of fun and everyone is still talking about that wedding!  You could add other musical additions – even performing a song or two if you are musically talented.  Play guitar?  Sing? Special Dances?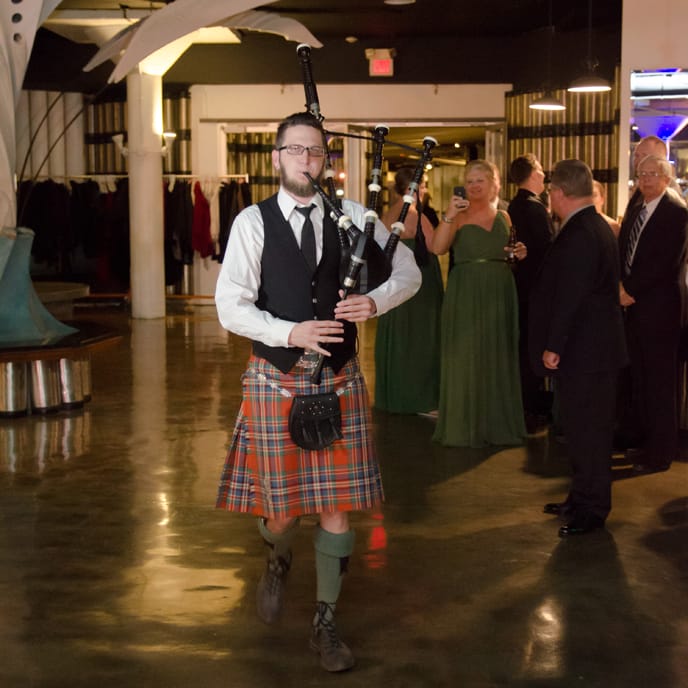 Okay, those are some ideas for today.  I could go on page after page.  Let's hear from you.  Do you have something special planned?