VENUE:   Barnett on Washington
Website: www.barnettonwashington.com
Phone: 1-844-GO-BARNETT
Representative: Misty Willinger
Email: [email protected]
Facebook: https://www.facebook.com/barnettonwashingtonbycopia
Twitter: https://twitter.com/BarnettOnWash
Instagram: barnettonwashington
Description:
The Barnett on Washington is a unique and sophisticated St. Louis event venue that recently opened its doors after undergoing a multi-million dollar renovation. The building, located at 3207 Washington Boulevard, has a long and storied history, but was only recently renovated and restored to its original luster and elegance. Famed architect, Tom Barnett, constructed the building in 1920.  It features a Spanish Mission style of construction and maintains its historic look and appeal while boasting the highest quality modern amenities.
SPECIFICATIONS:
Venue Type:  (Either Banquet, Restaurant, Golf Course CC, Winery, Hotel, Historic Home, Historic Bldg, or other)
Banquet, Ballroom, Historic Building
Venue Style: (Classic, Traditional, Outdoor w/Gazebo, Gardens, Barn, other)
Spanish Mission Style – Classic & Sophisticated
Outside Patio
Total Minimum & Maximum Number of Guests:
Minimum of 20
Maximum of 300
Handicap Accessible: (Please detail)
Handicap accessible with elevator, chair lift, and bathrooms
Audio Visual Capabilities:
Plug and play surround sound system
Projector & Screen available for rental
On Site Event Coordinator:
Each event comes with onsite Events Director
Cake Cutting Charge:
We have 8 preferred caterers that typically take care of cake cutting
Dance Floor Included: Yes
Decorations Permitted:  Yes
What's Included:
Event Director
All tables and chairs
In house sound system
Access to Barnett Room (Cigar Room)
Access to Barnett Patio (weather permitting)
Valet Parking up to 150 guests for 4 hours
On-site security
Parking Options: Valet Parking included for up to 150 guests (4 hours)
Ceremony Only Area:
Ceremony area is on the main ballroom floor. We can certainly do a reception after ceremony, but we will need to breakdown ceremony setup and rework for reception.
Guests welcome to enjoy bar area & outdoor patio while setup is taking place.
Outside Area:
Patio included with all events & can hold up to 100 people.
Bridal Prep Area:
Available beneath ballroom floor near entrance. Equipped with bathrooms, couches, coat rack, and full length mirror.
Pet Policy: Service animals only
Rehearsal Policy: Monday – Thursday by appointment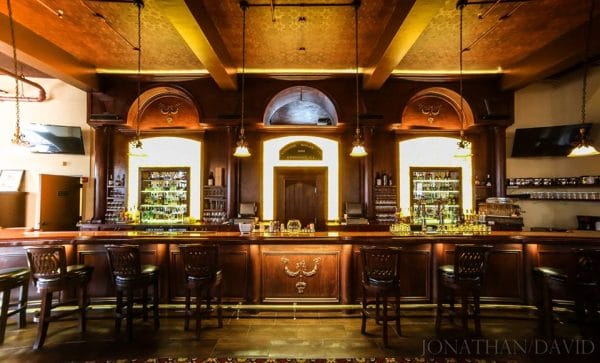 ROOM OPTIONS & PRICES
What rooms are available & what is the price?
Rooms included in Ceremony & Reception:
Bridal Lounge
Barnett Room (Cigar Room)
Barnett Patio
Barnett Great Hall (main event space)
2016 Pricing
Ceremony $1,5000 no matter the day

2 hour rental
180 seating capacity

Reception – Low Season (Jan, Feb, Mar, Jul, Aug, Nov)

Sunday-Thursday $2,000
Friday $2,500
Saturday $3,000
4 hour rental

Reception – High Season (Apr, May, Jun, Sept, Oct, Dec)

Sunday-Thursday $2,500
Friday $3,000
Saturday $3,500
4 hour rental
FOOD OPTIONS:
In House:
Price Range of Food Service Per/Person:
Does that price include Basic Liquor Service?
What is the cost to upgrade to a premium bar service?
Is there a Food & Beverage Minimum
Do you have a Liquor License:
When is Food Tasting Scheduled:
Outside Catering:
Are there preferred catering companies?
Balabans, Butlers Pantry, Cater Al Fresco, First Impressions Catering, Hendri's Events, LaChef Catering, Russo's Catering, and Tornatore's