Are you looking for a Distinctive Destination for your wedding?    Here are fourteen suggestions of great wedding venues that will set your wedding apart.   These are just a few of the great locations you can find at our sister site, VenuesofStLouis.com.
Garth Woodside Manion, Hannibal, Missouri  – www.garthmansion.com
Contact: Julie
Phone:  888-427-8409
Of the many wedding venues in Missouri, Garth Mansion is special as it offers their beautiful historical mansion and bed and breakfast experience.  Enjoy the manicured property and additional cottage space.  Their personalized planning services makes it stress free and easy.  The gardens and property features accentuate every aspect of the outdoor beauty one would want for their special day!
Contact:  Jeni Grunzinger
Phone: 636-266-9975
Located just one hour west of St. Louis, in New Haven, Missouri, the natural beauty of Cedar Creek provides a romantic setting for your truly unforgettable wedding. Featuring on-site overnight accommodations for up to 125 guests, a salt water pool, a golf course and so much more. Popular areas for use include The Barn, The Lake, the Saloon and Town Hall, and our on-site restaurant located in our iconic Western Town. Why not turn your wedding day, into your wedding weekend? The possibilities are endless!
Contact: Michelle
Phone:  636-798- 2288
Defiance Ridge Vineyards is a beautiful facility located in Missouri Wine Country and provides a gorgeous setting to celebrate your special day.  Enjoy the vineyard, sparkling lake, and lush garden – offering great backdrops for your photos, and roaming area for your guests to explore. Your wedding at Defiance Ridge can tell your story and reflect your personality and vision.  With accommodations for a small or large gathering and full catering menu, they can help you craft the perfect event that guests will never forget.
Contact: Melanie, [email protected]
Phone:   636-255-0270
The Foundry Art Centre in located alongside the Missouri River and Katy Trail in downtown St. Charles.  The beautifully redesigned interior of the old Foundry is where railroad cars were once produced and it is now a cultural center of national and international regional art.  Dramatic high ceilings, balconies above for viewing, combined with flowers, music and delicious food, makes The Foundry your special venue.  Truly one of a kind location.
Phone:  573-561-3093
Experience the magic of your wedding inside the authentic 100+ year old barn, surrounded by your loved ones.  Dodson Orchards is located in the rolling hills of the Ozarks and is about an hour's drive south from St. Louis County.   You will be the main attraction and because they are an all inclusive venue, you can relax knowing that everything will be just as you envisioned.  Plus, you have full access to their vast array of rustic chic décor and antique furniture pieces to use as accents and gift tables.
Contact: Becky
Phone: 573-486-4455
Host a romantic, private wedding ceremony along the scenic Missouri River at Hermann Hill Weddings, a picturesque and popular wedding event venue nestled in a storybook setting in Hermann, Missouri.  The location is conveniently accessible to couples from St. Louis to Columbia via I-70.  The maximum number of guests you may host for an indoor ceremony is 225, while up to 300 guests may be served for an indoor reception or outdoor ceremony.  Hermann Hill offers various packages that can accommodate most budgets.  Included in some of the packages are use of a Bride and Groom's room, use of pavilion for reception, use of chapel or gazebo.
Contact: Samantha,  [email protected]
Phone: 573-486-5199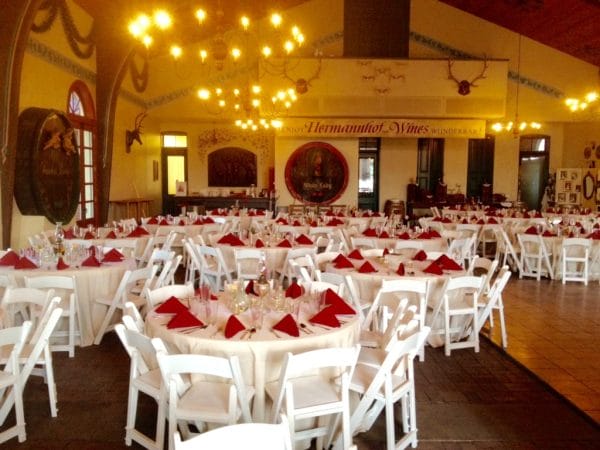 The Inn at Hermannhof is a perfect weekend getaway destination in the romantic Missouri Wine Country.  It is situated in the historic town of Hermann, Missouri – known for its German heritage and one of the oldest wine growing regions in the U.S.  If you are having out of town guests, this is a perfect spot as their bed and breakfast can accommodate your family and friends all in one great location.
Contact:  [email protected]
Phone:  573-470-6777
Peace Tree Farms is dedicated to conservation, organics, preserving nature and the beauty of our Earth.  They specialize in Custom Weddings within their 150 Acres of Beautiful!  Choose your perfect ceremony and reception site – garden and main pavilions, lakeside, woodland, or orchard and meadow.  Coming Fall 2019 the new Garden Barn.  If you can dream it, Peace Tree Farms can make it happen.
Aeries Terrace Banquet Center, Grafton, IL – www.aeriesview.com
Contact:  Angie [email protected]
Phone:  618.786.8438
Memorable events deserve an unforgettable setting – someplace different.  Aeries is close to home, yet being there feels like an escape.  Awesome, natural beauty and adventure around every corner.  You wedding will be at the edge of a breathtaking panorama that is simply the best view in the Midwest.
Contact: Travis – [email protected]
Phone:  618-304-4516
The Pour Vineyard is located in Red Bud Illinois and is one of Illinois' newest wedding destinations.  Pour Vineyard offers a rustic barn, large lake and over six acres of vineyards.  They offer many ceremony locations and they allow you to choose your own vendors.  About 200 can be accommodated for a barn ceremony and 224 for a vineyard or lake ceremony/reception.
Contact:  Matt & Mia,  [email protected]
Phone: 573-915-6760
Many say that Seven T Farms is the perfect backdrop to say "I DO"!  From modern to vintage, Seven T Farms offers a unique setting for your wedding or event.  Enjoy a 300 acre venue located one hour west of downtown St. Louis just outside Sullivan, Missouri.  They have several ceremony options, a large reception room with stage for a head table or DJ setup, and an additional room perfect for rehearsal dinners or cocktail hour.  The patio offers outdoor seating, an indoor/outdoor bar, stone fireplace and a stunning view overlooking the farm.  An on-location bridal suite accommodating up to 12 is also available for rent.
Contact:  Janie – [email protected]
Phone:  636-030-6005
The White Owl is a private outdoor event venue that works hard to craft a personal, unique, and unforgettable event for its customers located in Wright City, MO. They believe events such as a wedding, birthday, anniversary, graduation, corporate celebration have the power to do more than celebrate a milestone; they create long-lasting impressions through social interactions, memorable moments, and custom personal touches. They also believe in enjoying what you do and doing it with the ones you love.
Contact:  Angie
Phone: 636-482-4500
Looking for your dream wedding in a vineyard?  Noboleis Vineyards offers panoramic views of rolling hillsides while the surrounding vineyards offer the backdrop to an outdoor ceremony and/or a reception for up to 200+ people in a tented pavilion.  There's a bride's loft for getting ready, plus great photo spots in the vineyards and cellar.
Contact:  Dena – [email protected]
Phone: 314-265-2531, 314-868-8009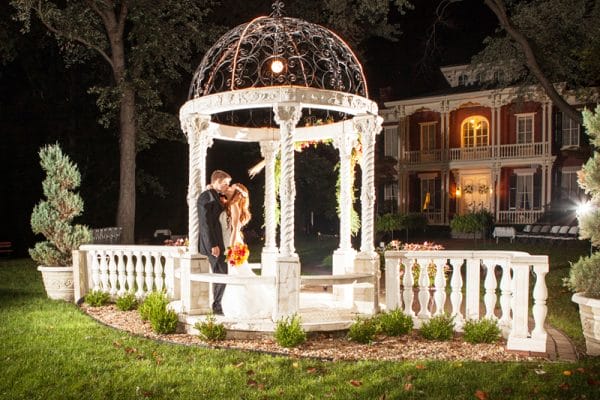 The Larimore is a private, historic estate established in 1858.  This venue boasts 6 acres of enchanting grounds, the charming Victorian mansion and an elegant banquet center.  This hidden gem is perfect for those searching for a spectacular event that is "unique" and offers plenty of "WOW" factor!