Are you looking for that SPECIAL song for your walk down the wedding aisle?  Here is a list of 100 potential wedding songs that might be perfect for your stroll. Find the song that speaks to you!  As you know, the bride's entrance is the real start to your special day.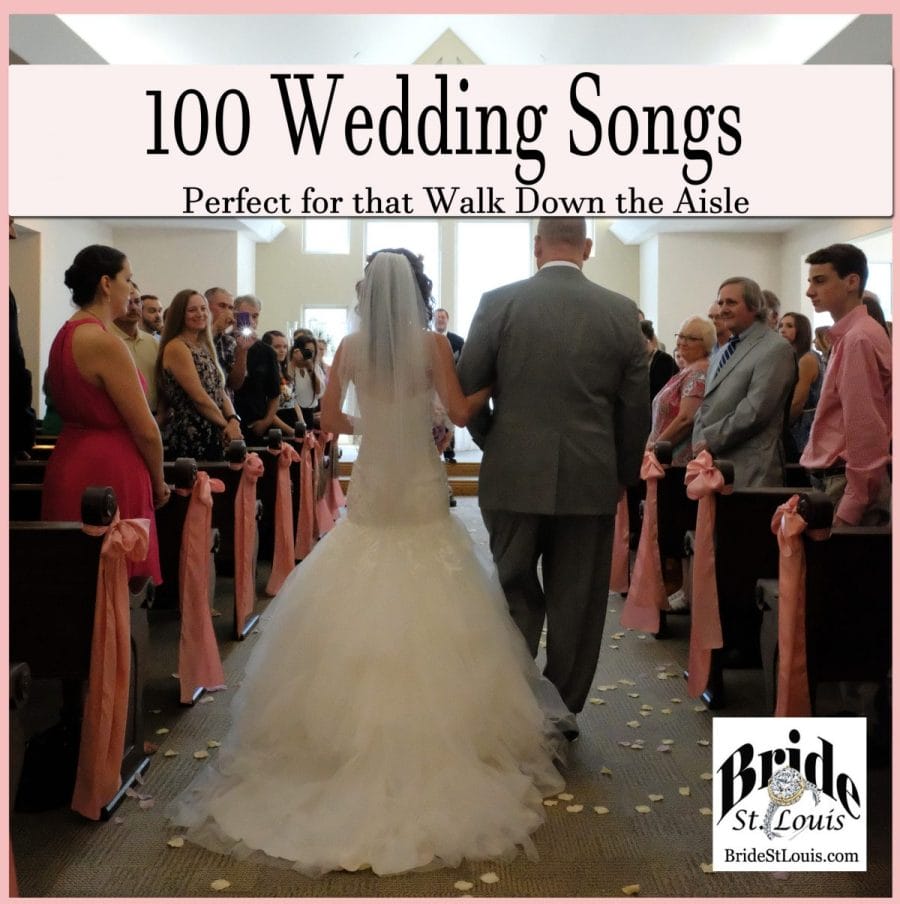 Walking down the aisle is one of the most special parts of the wedding day. Expect a few tears as your partner sees you for the first time in your dress, and then having your Dad by your side only adds to the emotion.
All eyes on you can be quite scary, and having that special song that you really love can be comforting – as well as help you set the pace for your walk!
How to Choose Your Bridal Entrance Song
First, the pace: you don't want something really fast as you want to walk at a slightly slower than normal pace. If your chosen song is a little too up-tempo, see if there's a slowed-down acoustic version available. You'll need to work out when you want the music to fade (if it's not a live presentation) so time your walk to avoid arriving at the front mid-verse or crescendo.
Again – have fun with your selection – choose something that is important to you.  For example, one bride chose an instrumental version of the Jurassic Park's theme as it was her husband's favorite film!  
1,2,3,4 by Vitamin String Quartet  (A string ensemble performance of Feist's indie pop song.)
A Day Without Rain by Enya (Touching instrumental perfect for any outdoor event.)
Amazing Grace by Bridesmaids Quartet (It's timeless!)
A Sky Full of Stars by The Piano Guys (A fun piano and cello rendition of Coldplay's house-pop song.)
A Thousand Years by The Piano Guys
All I Want is You by Bridesmaids Quartet
All of Me by Daniel Jang (It's a tender violin and guitar composition of John Legend's soulful love ballad.)
All You Need is Love by Guitar Tribute Players  (A soft acoustic tribute of The Beatles' piece.)
And I Love Her by United Guitar Players
Ants Marching/Ode to Joy by The Piano Guys (An arrangement of Dave Matthews Band rock song and Beethoven's classis symphony.)
Are you Gonna Kiss me or Not
Best Day of My Life
Better Together by Romeo Loves Juliet (An acoustic adaptation of Jack Johnson's folk song.)
Black Bird by Peter Pupping and Fred Benedetti
Can't Help Falling in Love by United Guitar Players (An acoustic rendition of Elvis Presley's love ballad.)
Can't Stop the feeling! By Vitamin Street
Can't Take My Eyes Off You by Trio Comodo
Calling Dr. Love by Vitamin String Quartet
Come Away With Me
Counting Stars by Simply Three
Daughters by Bridesmaids Quartet (String Interpretation of John Mayer's blues-rock song.)
Despacito by Brooklyn Duo
Don't Stop Believin'
Endless Love
Everything by Bridesmaid Quartet (A rhythmic cover of Michael Buble's love song.)
Everything I Do, I Do It For You
Fallin' for You
Feels Like Home by Edwina Hayes
Fields of Gold by 2 Cellos (A moving cello duet of Sting's rock song.)
Forever by Josh Vietti
From This Moment On
Get Lucky
Glasgow Love Them by Craig Armstrong (A heartwarming piano solo.)
God Gave Me You (Blake Shelton's country love song.)
Grow Old With You (Remember The Wedding Singer?)
Happy by Vitamin String Quartet.  (Pharell's neo-soul song.)
Hallelujah
Have I Told You Lately That I Love You
Heaven
Here Comes the Sun
How Long will I Love You (Ellie Goulding)
How to Save a Life (the Fray Tribute) by Tribute Players (A melodious piano solo.)
Hymn for The Weekend by Brooklyn Duo (Coldplay's Indie Song.)
Hymne by the O'Neill Brothers
I Do by Bridesmaids Quartet (A string interpretation of Colbie Caillat's folk song.)
I Don't Wanna Miss a Thing (Aerosmith's legendary love ballad.)
I Want to Hold Your Hand
I Will Always Love You
I'm Yours
In Your Eyes
Light My Fire
Like I'm Gonna Lose You
Kashmir (A String Performance of Led Zeppelin's metal masterpiece.)
Love Me Like You Do.
Maestro
Marry You (Bruno Mars's pop love song.)
Me and My Cello (Happy Together) by The Piano Guys
Mine Would Be You (Blake Shelton's Country Love Song.)
La La Land
Our Song (A Taylor Swift Love Song.)
Open Arms by Scott D. David (A sentimental piano solo of Journey's rock anthem.)
Over the Rainbow/Simple Gifts by Harold Arlen, J. Bracket, Harburg and Piano Guys
Paradise (Coldplay's Inspirational Indie Hit.)
Purple Haze by Kronos Quartet (A dramatic string of Jimi Hendrix's piece.)
Rather Be (Clean Bandit's dance-pop song.)
Rhythm of Love
Riptide (Vance Joy's indie declaration of love.)
She Will Be Loved (Maroon 5 Song.)
Somewhere in Time
Something in the Way She Moves (James Taylor's Folk Love Song.)
Something Just Like This
Stairway to Heaven (Led Zeppelin)
Stand by Me (Ben E. King's romantic ballad.)
Stand by You (Rachel Platten's pop love song.)
Stay with Me (Sam Smith's soul pop song.)
Take Me to Church
Take My Breath Away
Teenage Dream (Katy Perry's pp anthem.)
The Best Day (Taylor Swift's Country Song)
The Edge of Glory by The Vitamin String Quartet
The Love of Love (Dusty Springfield's Jazz Hit)
The Way I Am
Thinking Out Loud (Ed Sheeran)
This is What you Came For
Time After Time (Cindy Lauper)
Uptown Funk (Mark Ronson and Bruno Mar's hit song.)
Viva La Vida (Coldplay's Rock Hymn)
We Found Love (Rihanna electro dance hit.)
White Wedding
With Or Without You
Wonderwall (Oasis's romantic rock song.)
You and Me (Lifehouse's soft rock love anthem.)
You are So Beautiful (Joe Cocker's famous love song.)
You are The Best Thing (Ray LaMontagne's Folk Love Song)
You Raise Me Up (Josh Groban)
Your Hand in Mine
Your Song (Elton John's Love Ballad)