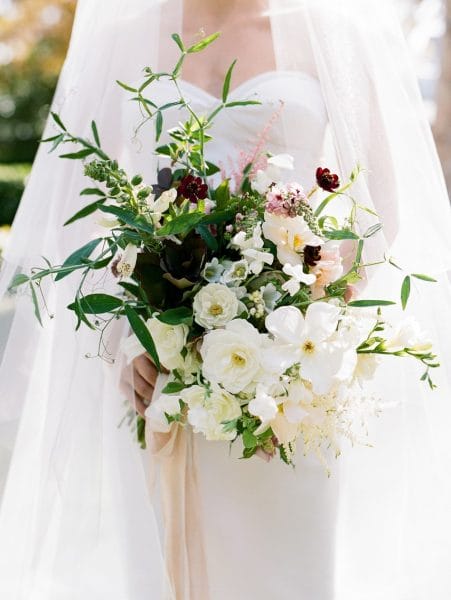 I've seen a fairly large number of weddings, and I can guarantee you that there has never been a perfect wedding.   But here are seven things that are KEY to a GREAT WEDDING.
Here's the crazy thing about most weddings.  You and your partner will share very little time together on the most important day of your lives!   First, you get ready for the ceremony, then have the ceremony, and finally spent a lot of the reception dancing with parents and friends and thanking guests for coming.  I highly recommend that you PLAN some alone time for you and your spouse immediately after the ceremony.  Take a walk, go to a room alone, or just some place where the two of you can really share time just with one another.  The Wedding Timeline should allow plenty of time for your together time and photos of just the two of you.
Don't try to do everything yourself!  The night before the wedding you don't want to be making place cards, finishing centerpieces or arranging bouquets.  In fact, you should have all your décor and decorations READY 30 days before the wedding!  Those last few days before your wedding you want to enjoy.  Delegate and use your family and friends.  The bridesmaids and groomsmen are there as well to assist you, so don't hesitate to ask them to take responsibility for a last-minute task.
Don't invite too many wedding guests.  Sure, I've seen empty spaces at tables where guests have RSVP'd and then failed to arrive.  However, if you have invited 300 guests, received 290 "yes" responses, but the reception venue can only legally accommodate 275, you might have to turn 10 people away.  That's really bad.  And I think most couples don't realize this.  Keeping the guest list shorter also helps control the budget – that's the easiest way to cut expenses.  And quite honestly, you want to be spending your day with those who TRULY care about YOU…not a second cousin removed that has only met you once!
Don't blow the budget!  Make a budget and keep track of your expenditures.  Don't forget the hidden extras like tips and delivery fees.  I've heard of grooms who had to make a trip to the bank to get money to pay the DJ, or else there would be no music!  It costs a lot of money to have a wedding, so make sure you have all the major items budgeted for.
Photography is one of the MOST IMPORTANT items on your budget.  Your photos will be your special "take away" from the day – and images that bring back memories of your special day are just really priceless!
Create some WOW at your reception.  Do you want your wedding reception something that family and friends will be talking about for years?  You don't have to spend a fortune.  You just need to add some extra pizazz and show guests that you really appreciate them.  Little things can make a big difference.  For example, serve pre-ceremony cocktails or serve wine/sparkling grape juice during the ceremony, have an "after party", or hire special entertain for the reception.  Perhaps a singer, bagpiper to make a grand entrance, or a piano player to play requests!
Your wedding day goes fast, so just go with the flow and enjoy your day.