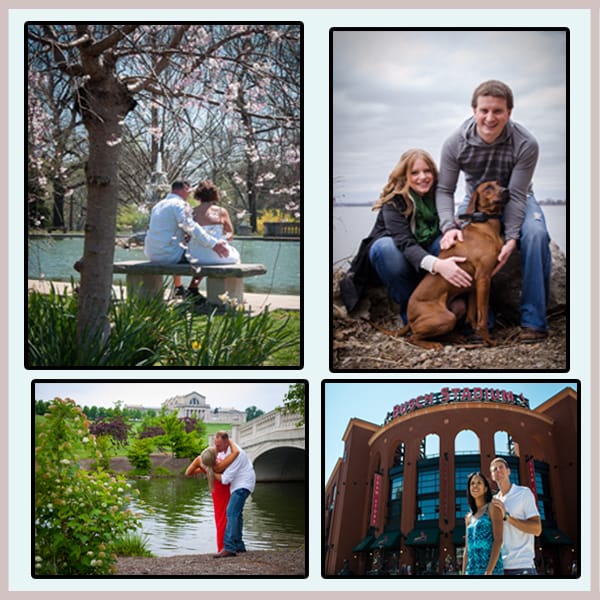 It doesn't surprise me that there were lots of wedding proposals over the last few weeks.  And now that your wedding is official, here are some perfect locations for your engagement photos.  The St. Louis area has a plethora of iconic settings and eye-catching public parks that are prime for unforgettable photos.  (When the snow melts!)  So, all you new brides-to-be, now is a perfect time to schedule your session with Spring just a few weeks away.
Most of these are FREE public places.  Places not included are those that charge – like Missouri Botanical Garden or Union Station.  Have special interest and hobbies?  It's always fun to incorporate your likes into these photos.  For example, if you love baseball, get some matching baseball shirts and have them personalized.   And, if you have pets, brings them along for a few snaps as well – and then have someone take care of them while you tend to photos of just the two of you.
A new option, is not only still photos – but video as well.  That's a great way to introduce your special other, especially if you have not had an opportunity to meet extended family and friends.
This is not an all-inclusive list – but places that readily come to mind.  Do you have a special place that you think should be included?
Ballpark Village
Bee Tree Park
Butterfly House
Carondelet Park/Boat house
Castlewood State Park
Chesterfield Central Park
City Garden
City Museum
Creve Coeur Lake Park
Drace Park
Faust Park
Forest Park – Bridges, Walkways,
Fort Zumwalt Park
Graffiti Wall Downtown
Great Rivers Greenway – Bike Trail
Jaycee Stage – Historic St. Charles
Jewel Box in Forest Park
Laclede's Landing (Neat Old Bldgs.)
Lafayette Park
Landing in St. Louis, The
Laumeier Sculpture Park
Longview Farm
Missouri River in St. Charles
Mississippi River Front
Moonrise Hotel
Muny in Forest Park
Oak Knoll Park
Quail Ridge Park
Sandy Covered Bride, The
Shaw Nature Reserve
St. Charles Gazebo on Main Street
St. Ferdinand Park
St. Louis Zoo
Tower Grove Park
Wineries
Washington Boulevard
Water Tower
World's Fair Pavilion