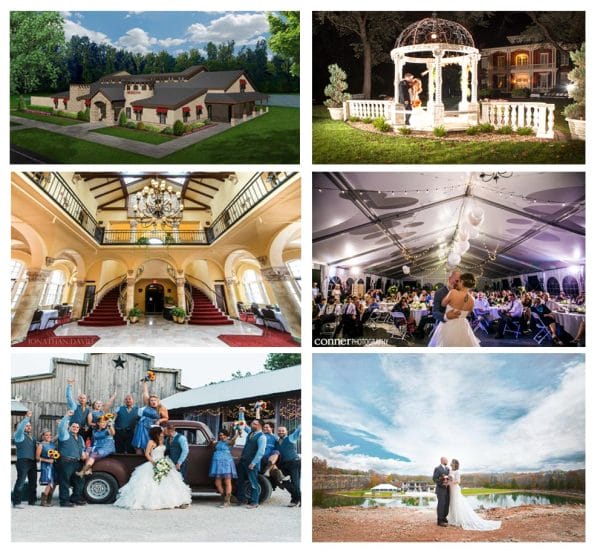 Are you looking for a VENUE with CHARACTER to host your wedding or reception?   Here are some unique venues that we selected.
Tuscany Landing
Tuscany Landing is the perfect marriage of country and elegance in a beautiful natural setting. It includes 6 1/2 acres. of private event space, a beautiful pond with walking paths, various outdoor ceremony locations, a beautiful, open indoor facility, and an amazing courtyard.   Guests and Family can relax and transition seamlessly from an indoor to an outdoor setting, and relax under a covered porch.   Best of all it's all inclusive which is easy on the budget and stress free.
The Barnett
The Barnett on Washington is a unique and sophisticated St. Louis event venue that recently opened its doors after undergoing a multi-million dollar renovation. The building, located at 3207 Washington Boulevard, has a long and storied history, but was only recently renovated and restored to its original luster and elegance. Famed architect, Tom Barnett, constructed the building in 1920.  It features a Spanish Mission style of construction and maintains its historic look and appeal while boasting the highest quality modern amenities.
Rocking J Ranch
ESCAPE FROM THE CITY!  Just minutes from St. Louis. With 60+ Acres, nestled among 1000s acres of Ozark ridges, valleys, & great views all around, you will experience wide open spaces. The Rocking J Ranch is rustic, laid back & loaded with vintage & primitive pieces & unsurpassed Southern style hospitality. You and your guests won't want to leave here.  Their scenic setting includes a waterfall, wood arbors, vintage doors, barrels, pastures, horses grazing, barn wood, lights and all your favorite rustic decor, both inside and out.  Wedding packages range from an all inclusive retreat to a Do-It-Yourself wedding on a budget and everything in-between!
The Larimore
The Larimore is a private, historic estate established in 1858. This Venue boasts 6 acres of enchanting grounds, the charming Victorian mansion and an elegant banquet center. This hidden gem is perfect for those searching for a spectacular event that is "Unique" and offers plenty of "WOW" factor!   The Larimore provides for gazebo weddings in the garden or quaint chapel weddings, and indoor receptions.
The Weingarten
The Weingarten's wedding ceremony and wedding reception venues are unlike any other.  Surrounded by beautiful forests, cornfields and a lake, our natural landscape offers a picturesque setting for your wedding ceremony and wedding reception.  Our winery feels miles away from it all but is actually less than 10 minutes from the nearest hotel.
Sunset Bluffs
With its picturesque surroundings and unparalleled service, guests will have an experience like no other at Sunset Bluffs. The Sunset Bluffs House faces an eight-acre quarry lake, surrounded by 110-foot natural bluffs that add an extra element of uniqueness to your event!
Please register to stay up-to-date on the latest special offerings and deals.  And visit and LIKE our Facebook page, http://www.Facebook.com/BrideStLouis to keep current on the latest new additions to our area.