Venues in Lincoln County
Aquila Barn, The
Moscow Mills, Missouri - 636-446-2087 - https://www.theaquilabarn.com/
Featuring breath-taking scenery, distinctive character, as well a rich historical background, The Aquila Barn is a perfect balance of rustic charm and modern elegance.
Rich in historical significance, Eagle Fork was once a small bustling settlement in the 1800s. The settlement was a stagecoach stop with a General Store, Blacksmith, and the "Drover's Inn." In the mid, 1800's hogs, cattle, and turkeys were driven down what is now Eagle Fork lane by Drovers. The 1850's Brick House, also known as Drover's Inn, was built to provide room + board to the Drovers before their last stop in Gilmore, Missouri. The Brick house, which also served as a US Post office is still on the property to this day. In 1871, G.W.L. Meyer purchased the farm and moved his family up from Augusta, Missouri. Eagle Fork remains a strong family farm to this day. Charles + Laura Meyer continue to keep the historical charm throughout Eagle Fork Pumpkin Farm, and now the new Aquila Barn.
Birds of a Feather Barn Venue
Troy, Mo - 636-358-4755
Plan your wedding on a private farm! Ceremony on our beautiful hay field & your reception in our rustic barn! Tours by appointment only.
Chanting Oak Ridge Events
Wright City, MO - 636-544-7578 -  https://chantingoakridge.godaddysites.com/
THERE'S NO BETTER PLACE TO WELCOME YOUR NEW BEGINNINGS! ​
Chanting Oak Ridge is unlike any other venue! We are nestled on 8.5 acres just 6 miles from Troy, 11 miles from Warrenton and 15 miles from Wentzville.  We are a Private Indoor/ Outdoor Event Venue specializing in Weddings. The space is welcoming with beautiful scenery of the Lincoln Hills as well as a excellent sunset making it unique so that you and your guests have a one of a kind experience.
Factory on Cherry, The
Troy, Mo - 636-290-0224
Heritage on Broadway
Elsberry, MO  -  314-800-3609 -  https://heritageonbroadwayevents.com
We are a rustic, French-inspired venue located in Elsberry, Missouri. Located an hour outside of Saint Louis, our small town lends a cozy, charming setting for your special day. Our main building was built in the 1800s and still has its original tin ceilings and brick walls.
Whether your guest list is twenty or two hundred, we are ready to accommodate.
Moscow Mills Community Center - Lions Club
Moscow Mills, MO - 636-358-0760 -
Redemption Ranch
Winfield, MO - 636- 661-5777  -  https://www.redemptionranchstl.com/
About The Ranch
The ranch is a beautiful 100 acre piece of property 30 minutes outside of St. Louis County. It is nestled in the rolling hills of Lincoln County with picturesque rock-bottom creek, mature trees, and a large lake. The property was first purchased by Bryan and Debbie Short in the spring of 1999.
Shalom Acres
Winfield, MO  - 314-412-9612 -
Shalom Acres is a spacious wedding venue located in Winfield, Missouri. Focusing on the inspirations of peace and prosperity, Shalom Acres is eager to provide a lovely environment where you and your special person can make memories that last a lifetime. The venue has robust rustic accents throughout as well as an on-site bed-and-breakfast and a hostel for guests to stay in. Shalom Acres can be a prime spot to host parties, showers, weddings, and receptions. Priding themselves on cleanliness and the safe premises that they provide, they infuse spiritual principles in all their practices, ensuring a worry-free environment. Brunch, lunch, or evening dinners can also be provided from their full menu of dish selections.
Troy Knights of Columbus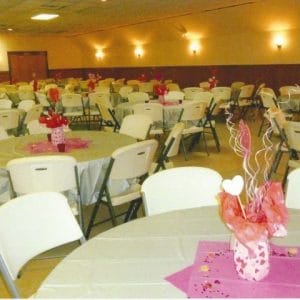 Troy, MO - 636-528-7450 - http://www.troykchall.com
Whippoorwill
Foley, MO  - 636-299-2638 -  http://www.WhippoorwillWeddingVenue.com
Whippoorwill Lodge and Wedding Venue hosted its first wedding in May, 2019. The 110 acre private and secluded venue is located in Foley, MO about 10 minutes from Hwy 79. The venue offers a hillside waterfall ceremony location, reception barn, and lodging for 15.
The Colorado-style lodge serves well for out-of-town guests, the wedding party, or simply the newlywed couple. The home has 5 bedrooms, 3 full baths, 1 half bath, full kitchen, large gathering room, and deck. Amenities include a large stone fireplace, wood burning stove and walk-in shower within the honeymoon suite, a bridal suite, and 6 person hotbed. An ideal setup for the bride and bridesmaids to prepare for a memorable, special day.
Woods Fort Golf Course
Troy, MO  - 636-528-0040 - http://www.WoodsFortGolf.com
Can't Find the Right Venue - Check the Other Venues by Area
Areas are defined by ZIP CODES
St. Louis City:  63101-63104, 63106-63113, 63115, 63116, 63118, 63120, 63139, 63147
St. Louis South:  63119, 63122- 63123, 63125, 63126-63129
St. Louis North:  63031, 63033-63034, 63042, 63044-63045, 63074, 63114, 63121, 63133-63138, 63140, 63145
St. Charles County: 63301, 63303-63304, 63332, 63368, 63341, 63348, 63365-68, 63376, 63385-86
St. Louis Midtown:  63043, 63119, 63122, 63124,63105, 63117, 63130-63132, 63141, 63143, 63144, 63146
St. Louis West:  63005, 63011, 63017, 63021, 63025, 63026, 63038, 63040, 63069. 63088, Robertsville 63072
Lincoln County: 63343-44, 63347, 63349, 63362, 63369, 63377, 63379, 63381, 63389, 63390, 
Jefferson County:  63010, 63012, 63015-16, 63019-20, 63023, 63028, 63048, 63050, 63051-53 63065-66, 63070,  63087, 63627
Warren County:  63383, 63380, 63342, 63351, 63357, 65041
Franklin County: 63013-15, 63037, 63039, 63041, 63055-56, 63060-61, 63068-69, 63072-73, 63077, 63079-80, 62084, 63089, 63090
Missouri Other – All other zips 
Illinois – All zips