The BIGGEST & BEST Bridal Event of 2023!
January 7

th

and 8

th

- 2023
11am to 4pm BOTH Days
So much to see and experience - YOU NEED 2 DAYS! 
CLAYTON PLAZA HOTEL, Clayton, MO 63105 (FREE parking)

ENGAGED!   CONGRATULATIONS!
Help! Where do I begin?
When most couples get engaged, the world of weddings is all new to them!  How do you get inspired?  What does everything cost?  What are the things that are going to make your wedding unique?  This Wedding Expo will be perfect to help you put it all together.
If you are like most engaged couples, you may be feeling a bit overwhelmed by all the planning and decision-making that comes along with turning your wedding day dreams into reality.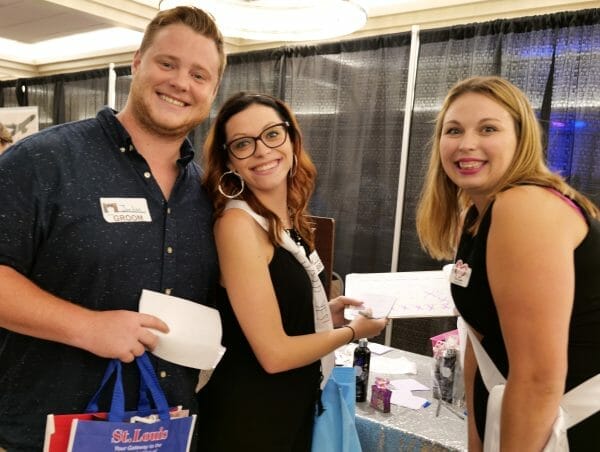 Start at our Wedding Expo!
Nothing takes the place of meeting high quality, reputable wedding professionals face to face at our wedding expo.  At the St. Louis Wedding Expo we have everything for your PERFECT wedding under one roof.
If you are a future bride this is your one stop shop for everything bridal.
One Day Tickets: $15.00 on-line up to 12/31/22, and $18.00 after that date.  At the door $20.00.
Two Day Tickets:  $18.00 on-line up to 12/31/22, an $21.00 after that date.  At the door $24.00.
Children Under 10 are FREE
All Tickets  are Non-Refundable.
$3000 Honeymoon GRAND PRIZE !
Entry to the $10,000 WEDDING GIVEAWAY !

RUNWAY FASHION SHOW
Produced by:
Goddess Gowns and Tailored Brands

EVERY BRIDE
$200 GIFT CERTIFICATE
Pick up at FRONT DESK after Fashion Show

Prizes, Deals
& Discounts
PARTICIPATING VENDORS INCLUDE:
A-D.J. Mobile DJ Services
Manifesting Beauty by Amy
Amazing Smiles Orthodontics
Mary Kay Cosmetics, Jessica Schultz
Andrew Overbey Photography
Memories Production
Apex Studios
Mens Wearhouse
A Ray of Events
Men's Warehouse (Jos. Banks)
Arch City Monogramming
Michelle Jahns Photography LLC
Bandanas BBQ
Mid-West Marketing
Beautifully Kreated
Miha Photography
BWhimsical Events
MiLou
Brianna Rose Photography
McKinley Photography
Bridal Shoppe
Mirror Booth STL
Campbells Charcuterie and Gracing
Mystic Rhythm Media
Cherie Amour
New York Life Insurance
Clayton Plaza Hotel
Nothing Bundt Bake
Coldwell Banker -Kempf Team
North Star Coffee House
Complete Weddings & Events
N/W Mutual - Mark Frauenhoeffer
Concetta Catering
P. Warren Travel Agency
Diamond Gal Photography
Patrick Pope Photography
Dinner4Two
Pleasant Hill Chapel
Derek Coffman
PRP Wine International
DJ Connection
Pure Romance
Dream Vacations/Shanna Fowler
Savvi Formalwear
Endy Events
Shadow & Light
Frye Lake Winery
Shutterbees
Goddess Gowns
Sky High Travel
H & M Retreats
Something Blue Photography
Heartland Farms
Stems Florist
HFC Miss Augusta, Mount Pleasant Estates
Sugar Spring Ranch
Hofbraunhaus St. Louis Belleville LLC
Sunset Event Space
Honeymoon Chocolates
Tipsey Pony Party Bar
House of Curves Bridal
Tower Studios
Imagine Health
Tuscany Landing
Knockout Mixology
USA Mortgage - Mark Hayden
Landolfi
Valenti's Catering
Leaf Filter
Village Rolla, The
Liuliette Handmade
Wedding Krugh
Little White Corvette
Tailored Gents
Living Moments
Wedding Art Live - Karen Raidy
Maggie Medena
We want your wedding to be Magical, Amazing & Beautiful !!
We are EVERYTHING WEDDINGS and we produce The St. Louis Bridal Shows, the St. Louis Wedding Expos and the Central MO Wedding Expos that brides love!  BrideStLouis.com is the largest, most comprehensive and complete online wedding resource for the bridal community in the Midwest. We specialize in helping all brides and grooms plan their most amazing wedding ever!
For brides, grooms and guests we offer great GRAND PRIZES, FUN, education in the way of seminars and so much more at our Wedding Expos.  We want to provide an exceptional experience for our brides, and it's important that they can depend on the fact that our vendors at our shows are of a quality and caliber that they can rely on.
What people say about our Wedding Expos
Going to the Bride St. Louis Wedding Expo was one of the BEST things I did to plan my wedding.  I learned so much by attending the seminars.  I could get expert advice and ask questions.  I learned ways to SAVE money and still have a great wedding.  I highly recommend any newly engaged bride to attend.
The Wedding Expo by Bride St. Louis was such a great experience for me and my groom too. So many vendors – literally everything you need & more. And we found other great products and services we never thought of.  You are missing out if you don't attend!  Such an easy way to plan a wedding, meeting face to face with vendor & so many super deals and discounts.  We SAVED hundreds.
Clayton Plaza Hotel
7750 Carondelet Ave.
Clayton, MO 63105