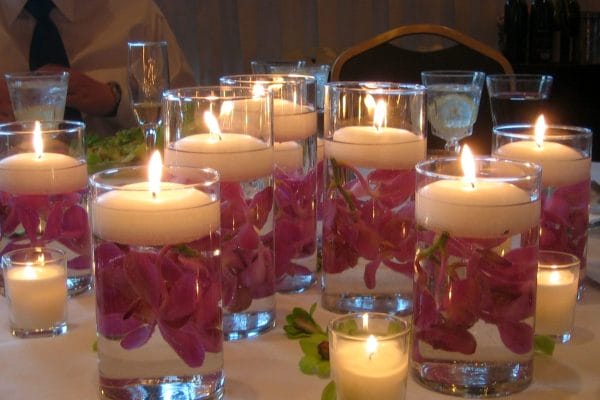 Something borrowed, something blue, let's plan the perfect wedding for you.
Here's a LOW- COST décor Item that speaks romantic nights!
Nothing sets a romantic mood like candlelight so why not add the romance of candles at your wedding ceremony and reception. From large oversized candles to small delicate candles the options are endless for creating your own special style.
One of the most romantic touches to an outdoor wedding is hanging candles. Candle accents done right adds just that special touch to set a mood.  You can purchase some beautiful ones online or in stores but that can make for a huge expense.
If you budget is tight, sometimes that project just is another idea gone undone. Here's a quick and easy DIY project that's low cost and easy to do!  (My kind of project!)  Find mason jars or empty glasses and then go to the Dollar Store and purchase low cost candles and add to the inside of your mason jars. Using twine, wire or jute to create a handle by which you can hang your lights. Hang lots of them at various heights for maximum effect.
How do you ensure they stay lit throughout the reception, especially when your event is taking place outdoors or in an interior room with open windows or doors?  Be sure your glass containers are a few to several inches taller than your candle, and you should be fine, even on a pretty gusty day. The height difference ensures the wind won't get in to blow out your flickering flame.
Other items you can do include adding a base of sand or colored stone to the bottom of your jar.
You can also create a warm, glowing light scheme with elements other than candles with a mix of string lights and up-lighting to create a glowing ambiance.  If you are looking to cut down on your flower budget think about adding more candles to your tables!