It is the week of LOVE in February, Valentine's Day Week.  Yes, I said week!  With Valentine's Day on a Monday, I think that we need to share and celebrate love all week long…. So how about some 2022 Wedding Trends!
The past two years have been a little unusual not only in the wedding industry but all around the world.    This year, 2022, is projected to break the record (previously held by 1984) of the most weddings held in one year.  With that being said – I believe that we are going to see an EXPLOSION of weddings! So, what kinds of trends are we going to see this monumental wedding year?
Bridal Color Palette – BRIGHT, BOLD and BEAUTIFUL colors are going to lead the way this year.  In years past we have seen more muted color palettes that included mauve, sage and slate.  This year the color palettes will be warm, earth tones, vibrant colors and even some mismatched colors combinations to add to the celebration of the day.  Think electric blue, emerald green and even pink-purple to be headliners for the bridesmaids.  Also, think about wildflowers, I believe that the colors that we see in nature are going to lend to the colors that we are going to see in the bridal world. I still believe that we will see a lot of neutrals (ivory, cream and beige) this year, however, I feel like they are going to be taking a backburner. Blue will most likely lead the way and we will see a lot of green.  Blue represents the sky and the sea and is associated with open spaces, freedom, intuition, imagination and inspiration.  Green symbolizes new hope, balance and new life – all great symbols to have in your wedding palette.
Entertainment – Everyone is ready to PARTY!  Entertainment is going to be a big key factor this year.  Since we have all been locked away from each other for the past 2 years, it is now time to PARTY!  I believe that we will see a trend of live music and a lot more choreographed first dances.  Photo booths, sparklers, balloons and more will be making its way into the receptions and will leave a fun and lasting impression for your guests.
Weekday Weddings – The couples of 2020 had to postpone their weddings. Some couples in 2021 also had to postpone their weddings. However, people did not stop getting engaged.  With so many engaged couples, weekend weddings are very hard to come by. Many venues, photographers and even planners are completely booked for 2022 weekend weddings, so I believe that we will see a movement to weekday weddings. Weekday weddings have their pros and cons.  One positive is that a weekday wedding is more budget friendly but on the flip side, a weekday wedding may be inconvenient to guests.
Intimate Weddings/Micro Weddings – Intimate weddings are doing to be just that, a private and intimate affair. They are going to be smaller and with only the people that you truly know and love in attendance. Guest list will be curated and likely under 75.  This will allow couples to stretch their budget in different ways.  They will have the freedom to spend more on specialty vendors instead of having a pricey food and beverage bill.
Groom Color Palette – Let's not forget about the new looks and colors that we are going to see this year when it comes to the groom wedding attire.  Playing it safe with a classic black suit or tuxedo is great, but why not let the groom's personality shine on his special day as well.  I believe that we will see more color in the groom attire.  The groom and groomsmen will want to coordinate with the bridal party, but they will want to make a statement as well.  There are so many options today for the men's attire.  I believe that men will also have bold colors – from velvet green jackets to cobalt blue suits – the men are going to step up their wedding game this year.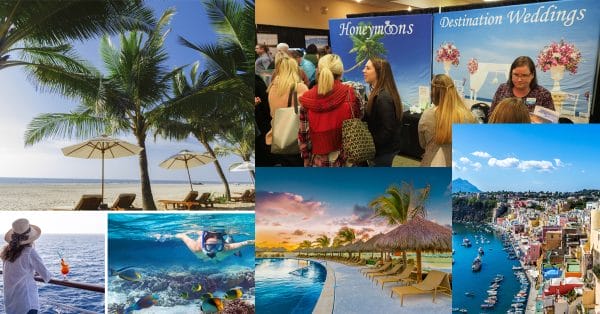 Destination Weddings – With the smaller guest count, Destination Weddings are growing.  Let's be honest, we have all been isolated for so long and would love to see something other than our own backyard.  A Destination Wedding allows the couple and their guest to celebrate marriage and have a vacation all at the same time.  Also, "Destination" does not mean that you have to travel 500 miles away, you can simply have your "destination" wedding in a nearby town.  These types of weddings also give couples the option of have a "multi-day experience".  Instead of your wedding day, it could now be your wedding weekend.  Spread events out over a couple of days, and with the guest list smaller, you will make lasting memories with those that you hold near and dear to your heart.
If this pandemic has taught us anything, it is that we love who we love, want to celebrate with our loved ones and how to be creative when planning a special day.  2022 will be a year of growth, change and amazing celebrations!